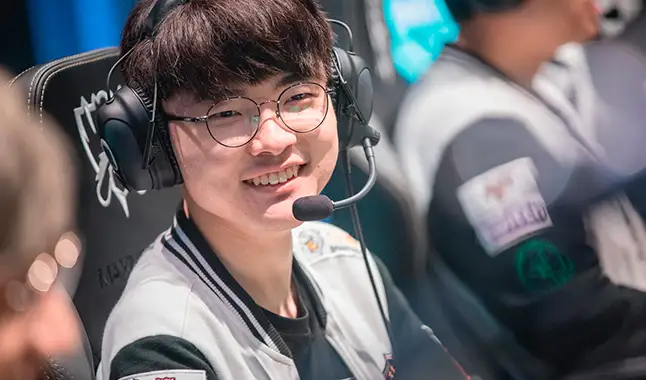 South Korean player Faker broke an LCK record; stay in.
In addition to being considered the greatest name in the history of the competitive League of Legends, South Korean player Faker broke a record at LCK after reaching 600 games played in its history. In addition, the South Korean has been three times world champion and nine times LCK league champion. Wearing the T1 team shirt, the player remains one of the best League of Legends players in the world.
The record came this past Tuesday after beating Nongshim RedForce by 2x1 within LCK Spring 2021. Beside T1, player Lee "Faker" Sang-hyeok reached the historic number of 600 games played, even though he was not a starter at all the games next to the T1. Despite this, the player has been sharing the mid-lane with the 17-year-old Lee "Clozer" Ju-hyeon. In total, today T1 has 10 players, between owners and reserves, for LCK. However, T1 is considered one of the best teams that usually dominates the Korean scene, since its time as SKT T1.
Faker's story starts professionally in 2013, where the player presented a rare peculiarity within the eSports scene. Since his start in competitions, Faker has been wearing the T1 shirt since he was called SKT T1. In his history, the player has never been in any team other than T1 within League of Legends competitions.
In his debut year, the South Korean, who played for SKT 2, together with "Impact", "Bengi", "Piglet", and "PoohMandu", got the first title as a professional right away, winning the second split from Champions 2013. After that, years later Champions would change its name to LCK.
In all these years as a professional League of Legends for T1, Faker won the 2013, 2015 and 2016 world championships. With these achievements, Faker is the only player, besides "Bengi", to have three world titles. While at LCK, T1 maintains an absurd dominance.
After the Summer 2013 title, Faker still managed to obtain the trophies of the years 2014, 2015 (2x), 2016, 2017, 2019 (3x). However, with the growth of other teams in the competition, in 2020 T1 was left out of the League of Legends World Championship, after having had a bad campaign in the year in question.