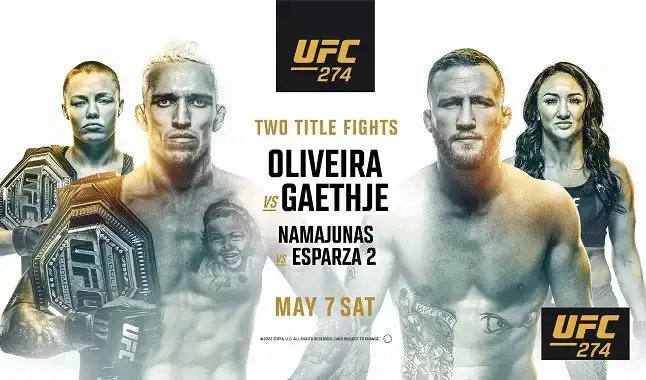 Full UFC 274 card, info and betting tips.
UFC 274 promises big fights this weekend. The event will take place in Phoenix (Arizona), at the Footprint Center.
Join our Telegram channel - Click HERE!
Charles Oliveira vs Justin Gaethje
This Saturday night we will have the lightweight belt dispute between the great champion Charles "do Bronx" Oliveira and the challenger Justin Gaethje. Currently, the Brazilian has an unbeaten record of 10 fights, is the record holder in Ultimate's history with the most submissions (18), and comes from a successful title defense. Meanwhile, the American spent a year away from the Octagons, but on his return he defeated former champion Michael Chandler.

The American Justin Gaethje is 33 years old and hails from the city of Safford, Arizona. In 14 years as a mixed martial arts professional, he fought in 26 fights, winning 23 times and losing only 3. Unlike the Brazilian, "The Highlight" is known for having very strong punches and valuing the standup duel. Still, he has some wrestling expertise.

Justin Gaethje is a remarkable striker in Ultimate, with many KO wins on his record, impeccable striking, and tough as steel. However, he had been out of the Octagons for a year and came back with a unanimous decision victory.

On the other hand, we have the current lightweight champion, Charles "do Bronx" Oliveira, who remains undefeated for 10 fights and is the organization's record holder with the most submissions (18). In addition, Charlinho is coming off a win over Dustin Poirier, where he showed to be good at striking and very resistant, as well as showing his specialty, the rear naked choke.

Bet: Charles Oliveira to win @ 1.61 – BET365
Check out all of today's matches and follow live!
Rose Namajunas vs Carla Esparza
Rose Namajunas is a great prodigy in mixed martial arts, with only 15 fights on his record, she took 11 wins and suffered 4 losses. In the meantime, she won more than once the title of the category in the UFC, as well as presented great performances in the Octagon.

The athlete Carla Esparza is 34 years old and has been active in the Octagons since 2010. Thus, as a mixed martial arts professional, she has already fought in 24 duels, where she won 18 times and lost only 6. In fact, she won 4 opponents by knockout, 4 by submission and 10 by judges' decision.

Carla Esparza and Rose Namajunas faced each other a long time ago, at the TUF 20 Finale, where the California native (Carla Esparza) emerged victorious. However, Namajunas says that she is another fighter now, with a different and better fighting style. Thus, she promises to keep the title and amend the fourth consecutive victory.

Bet: Rose Namajunas to win by decision @ 2.60 – BET365
Michael Chandler x Tony Ferguson
Michael Chandler was once one of the highlights of the UFC lightweight division, with the right to fight for the belt and many "Performances of the Night". Now, at 36 years of age, he seeks redemption in the organization, as he comes from two consecutive defeats. In fact, his record has 29 matches, with 22 victories and only 7 losses.

Tony Ferguson is a 38-year-old veteran mixed martial arts fighter, 14 of them as a professional in the modality. In the meantime, he fought 31 fights, where he beat 25 opponents, 12 by knockout, 8 by submission and 5 by decision of the judges. Regarding losses, El Cucuy suffered 1 knockout, 1 submission and 4 by decision.

Both fighters have already had their golden moment in their careers, and are currently seeking redemption to return to the top of Ultimate. So, due to these reasons, this fight promises to be one of the best, even more because the fighters have a very similar fighting style. As such, we believe Michael Chandler will fare better late Saturday night.

Bet: Michael Chandler to win by KO, TKO, DESC or submission @ 1.80 – BET365

Bet on UFC fights through the best online bookmakers!