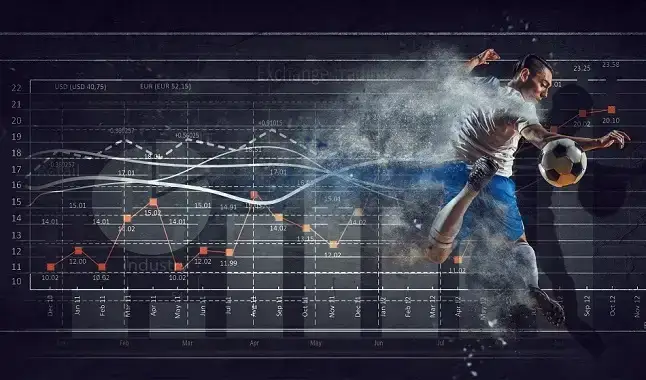 See how this stat works and how it influences betting.
The ways to analyze the statistics and data of a football team, as well as a specific player, are increasingly advanced, with technology bringing new tools to assess and project this information. Today it is common to read the term "scouting", which is a process of analyzing the performance of a team or athlete after collecting as much information as possible. This is so important that clubs today do not sign players without consulting this area. Within these data, there is the "expected goals (xG)", which has become not only important for football clubs, but also for bettors to more accurately assess their chance of winning on a given bet.

Join our channel on Telegram - Clicking HERE!

If we are going to summarize what "xG" means in the databases of a football match, we can say that it is the number of goals that a team or player is expected to score based on the number of shots on goal (including evaluating the quality of that finish). They are represented in number, with 1 being the maximum as it represents 100%.
Check out all TODAY'S MATCHES and follow them live!

For example: Messi has xG 1 to score in a certain match, that is, he has a 100% chance of finishing the game with at least 1 goal scored, because after evaluating his performance, considering numerous data, such as history against the opponent, his performance in the season, place of the match, the quality and goals conceded by the opposing defense, the ability of Barcelona's game to fit in this match, among others, it is assumed that the Argentine will swing the net.

In the example above we gave the maximum value of this analysis, but if we had provided a 0.4 xG for a football team or a player, we would be saying that they have 40% of scoring, after evaluating among other things the ability and use of submissions of both in the games already completed in that championship. If we go deeper into the statistical bases, we will see that this assessment expands, allowing us to analyze assists of expected goals (xA), expected goals against (xGa), expected goals in favor (xGf), expected points (xPts), among others. Each one of these items has its characteristics and importance, counting nowadays on professionals within the football clubs to analyze these numbers.

This only proves that currently coaches and players have an arsenal of information of their own and also of opponents, and when they enter the field, all of this is taken into account, confirming that the balance of most matches is not in vain, and that teams considered more weak or of lesser expression, able to compete with greater capacity against big clubs. Even though the technical quality is still the big difference, bringing these numbers to the technical and tactical choices of the games brings great results in championships around the world.

And for the bettor? Well, in the betting world, the search for an advantage to beat bookmakers and competitors is increasing, as this information has already arrived for everyone. This contributes a lot to finding value in a bet, in addition to having a better basis when it comes to evaluating the odds being offered in the corresponding markets. As much as the "expected goals xG" do not reflect an absolute truth of what will happen in a game, since in football there are many factors that change the course of a match, it serves as a great tool to sample what may happen in the future or, in this case, in the course of that game. And as we know, having this kind of reading is one of the most essential things for a bettor's success.

Bet from wherever you are through the best bookmakers!

Discover the best online sports bookmakers!