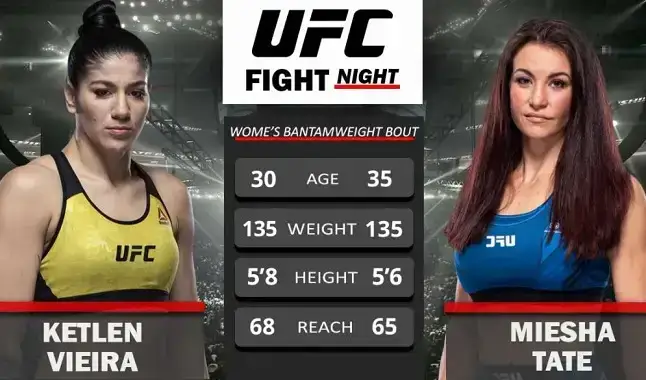 Complete card, information and betting tips from UFC Vegas 43.
This Saturday (20) we will have UFC Vegas 43, at the Apex Arena, in Las Vegas. The main event will be for the female bantamweight, between the Brazilian Ketlen Vieira and the American Miesha Tate. The two fighters are in the top 10 of the sport's ranking and promise to have one of the best fights of the night. Remember that Tate was once UFC champion, and after years out of the Octagon, she returned to the organization this year.
Join our channel on Telegram - Clicking HERE!
Vieira vs Tate
No wonder this is the main fight of the night, as all expectations are focused on the return of Miesha Tate to the UFC. After four years of retirement, the former champion returned in style, winning her duel against M. Reneau.

However, her big test will be against Brazilian Ketlen Vieira, who has already shown us all her capacity throughout her career. Multi-champion by smaller organizations, she debuted very well in the UFC and continued adding victories in the following duels. On the other hand, she hasn't kept the same regularity in recent fights, and seeks reassurance against one of the category's legends.

They have in common a good dominance of jiu-jitsu, but in addition, Vieira has judo as his strong point. Even though it's an extremely balanced fight, we believe that the American's long downtime may take its toll, even though she is extremely technical and competent.

Bet: Vieira wins | @1.90 on Bet365
Check out all today's matches and follow them live!
Yahya vs Kyung-Ho Kang
This is another fight that has everything to be one of the most special of this edition. Appointing the favorite in this duel is a little tricky, as they are two athletes with similar styles and qualities. The biggest proof of this is that the bookmakers are giving practically identical odds for the winner.

Brazilian Rani Yahya has the vocation to conclude his fights with submissions, and has already won more than 20 duels in this way. Furthermore, we must not forget that he is an extremely experienced athlete and that he knows how to deal well with difficulties within the octagon.

On the other hand, we have the Korean Kyung-Ho Kang, who knows how to use taekwondo and jiu-jitsu to his advantage, that is, he can do well in both standing and ground fighting.

Bet: Yahya wins | @1.91 on Bet365
Chiesa vs Brady
For the middleweight division, we'll have a great fight to follow, as Michael Chiesa arrives motivated to win again in the UFC, and wants to maintain his unbeaten career.

Chiesa has more experience and history within the UFC, but that doesn't mean much at the moment. However, despite coming from defeat, he spent a good period undefeated, winning his fights mostly by submission. In this way, he knows very well how to win inside the octagon.

But the moment seems to be special for Brady, as the athlete shows evolution with each duel. He is younger than his rival and is just going to his fifth fight in the UFC. The fighter shows potential to grow even more and has been highly praised for everything he's done so far. Finally, another important piece of information: he has never been defeated in MMA.

Bet: Brady Wins by KO, TKO, DISC or Submission | @2.40 on Bet365

Main Card
Female bantamweight: Ketlen Vieira x Miesha Tate
Welterweight: Michael Chiesa v Sean Brady
Bantamweight: Rani Yahya vs Kyung Ho Kang
Female flyweight: Joanne Wood vs Taila Santos
Bantamweight: Davey Grant v Adrian Yanez

Preliminary Card
Featherweight: Patrick Sabatini vs. Tucker Lutz
Lightweight: Rafa Garcia x Natan Levy
Strawweight: Loma Lookboonmee x Lupita Godinez
Lightweight: Terrance McKinney vs Fares Ziam
Flyweight: Cody Durden x Aoriqileng
Featherweight: Shayilan Nuerdanbieke vs. Sean Soriano
Strawweight: Luana Pinheiro x Sam Hughes

Bet on UFC fights through the best online bookmakers!