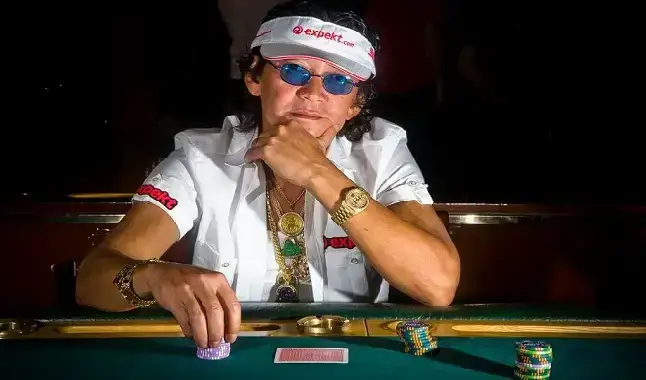 Today's poker star is the Vietnamese legend Scotty Nguyen.
Born in Nha Trang, Vietnam on October 28, 1962, Thuận B. "Scotty" Nguyễn is a poker pro who has won five bracelets from the World Series of Poker event circuit. In his journey, the Vietnamese American was the first and only pro to win both the WSOP Main Event and $50,000 Player's Championship events.
Join our channel on Telegram - Clicking HERE!
Life
Born in Nha Trang, Vietnam, Scotty Nguyen ended up moving to Taiwan at a young age, as in his youth Vietnam was experiencing conflict, which caused his mother to send him to Taiwan. After that period, at age 14, Nguyen moved to Orange Country, California.
Check out all TODAY'S MATCHES and follow them live!

During this time, Nguyen was eventually expelled from the school he attended due to his habit of playing poker during class time. So, at age 21, Nguyen started attending dealer school and took the opportunity to work in Harrah's poker room. At that time, Scotty was earning nearly $150 a night, but losing most of his money in $3 - $6 Stud games.

However, in 1985, Scotty Nguyen was invited to Lake Tahoe and participated in the No-Limit Hold'em tournament. On that day, Nguyen managed to raise his pocket money to $7,000, and that made the young man even more enthusiastic about poker.

After that, Nguyen went to Las Vegas to head into big games. By this time, Nguyen had even won $1 million and his name quickly became known at the poker tables.
Poker success
After making a lot of money fast, Nguyen ended up losing his million and had to rebuild his poker career. The pro returned to the spotlight only in the year 1997, where Nguyen participated in that year's World Series of Poker.

That said, Nguyen attended the $2,000 Omaha 8 or Better event and was successful on his journey, cashing in $150,000 and his first WSOP bracelet. However, in the same period, Nguyen ended up crashing his economy and had to chase the loss again. Afterwards, Nguyen participated in satellites to compete in the 1998 World Series of Poker.

After winning his way into the 1998 WSOP, Nguyen did well at the $10,000 No Limit Hold'em World Championship table and managed to cash in the amount of $1 million plus his second bracelet on the circuit. However, Nguyen would only return to the circuit three years later.

After the turn of the millennium, Nguyen returned to the 2001 edition of the World Series of Poker, where he nailed two titles to his resume. The first title came at the $2,500 Pot Limit Omaha table, where he pocketed the sum of $178,480 plus his third bracelet in the series. Next, Nguyen participated in the $5,000 Omaha Hi-Lo Split Eight or Better, which resulted in a profit of $287,580 plus his fourth WSOP bracelet.

During that period, Scotty was absent from WSOP achievements, returning only seven years later. In this case, in 2008, Nguyen participated at the table of the US$50,000 H.O.R.S.E World Championship and shelved the amount of US$1,989,120 and his fifth bracelet in the series of the World Series of Poker.
Fortune
According to data collected in 2014, Scotty Nguyen's profits already totaled more than US$ 11 million. Much of that profit was within the World Series of Poker, being $5,100,999.

Play now at the biggest online poker house in the world, PokerStars!

Discover the best online sports bookmakers!