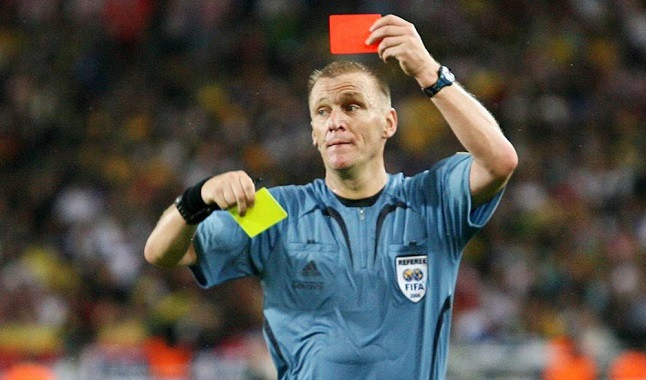 Some markets are very interesting to bet on cards.
In previous articles, we mentioned the card market as a good alternative to bet on a football match. After that, doubts arose in understanding how this market works best and which important points should be highlighted in order to be successful. Thus, today's article is entirely dedicated to the red and yellow cards distributed by the men on the whistle.

Currently, many tipster channels are offering their betting tips services in the most varied markets in football. Some even specialize in some type of
markets and strategy
, and
cards
are one of them. Through a good
analysis
, adding crucial factors such as the way the teams act, the importance of the match, the players' statistics on the field, and how the referee usually behaves, in addition to his average number of cards distributed, things become safer for achieve success.
Before we go deeper into the types of markets, we have to remind you that watching a live match makes things a lot clearer in card betting. You feel the
match's thermometer
, which players are likely to be penalized, as well as the referee's reaction as the game progresses. Added to this is the importance of the game at that time, where it will variably determine whether a team will seek to tie the game, using
fouls
or
making time
as the main tool, or whether a team desperately needs to score to reach victory or classification. At such times, as football lovers, we know that the referee's level of contact and punishment plays is much stricter.
Let's highlight some interesting markets, showing how they work.
Handicap
Here it is important to know the special
characteristics
of each team well, as the
weight
given to them will be different. Let's take a match that might occur at some point in the Champions League: Atlético Madrid vs Liverpool.
The bookmaker will give you some options, such as:
Atletico Madrid
: -0.5
Liverpool
: +0.5
In this case, Liverpool start the game in "
advantage
". If you believe Simeone's team will take more cards at the end of the match, you can bet on Atlético de Madrid -0.5. This is a way to get better quotes, since the level of demand with the bet is higher. However, it is a good way to earn some money, if you analyzed that one of the teams plays rough, suffers more cards throughout the season, and has players with these characteristics. On the contrary, there are teams that like to play more technically or have good positioning, not using fouls or rougher plays to gain an advantage or stop the duel.
Specific player to receive a card
This is a very interesting market. If previously, we said that it would be necessary to know the characteristics of the team, here we go further, because we have to know very well which
player
is famous for giving a stronger touch on the opponent. The
bookmaker
will offer a list with several players on the field, and you can bet specifically on which one will receive a card. The odds are usually great! And let's face it, it may seem difficult, but it's not impossible, far from it, and let's prove it. Pay attention to some
important details
of the game:
- Which player is most famous for playing the most brutal and disloyal way.
- Which player the referee has already verbally warned.
- Which player is looking more nervous or on an uninspired day, having difficulty stopping the opponent.
- See very well which is the ace of the other team and analyze which player will be in charge of marking him. An athlete who marks Neymar more closely, for example, is more likely to receive a card.
- And the goalkeepers! That's right. When that match is going to its end, and one of the teams is playing the game to win it, or to qualify for the next phase, it is quite common for goalkeepers to value their time and be punished with a yellow card.
Over/Under
Anyone who is used to betting on over/less goals in a match will feel used to this market. It is perhaps the simplest type to bet on cards as you will decide the
total amount
that will be distributed in the game. This way, if the bookmaker offers
Over
(more than) 4.5, it means that five or more cards will have to come out for you to win. Now, if you choose
Under
(less than) 4.5, you will have to hope that a maximum of four cards come out in the duel. It's good to make a general analysis of the teams, trying to find out if the two have tendencies to suffer cards (through their history), as well as if the match has decisive content or if it is a classic.
Bet wherever you want through the best online bookmakers!