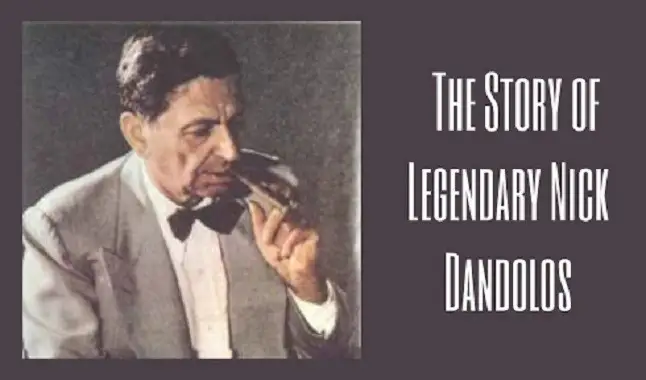 Today's poker star is Greek Nick Dandolos.
Born in Rethymno, Greece, on April 27, 1883, Nikolaos Andreas Dandolos was a pro turned poker legend known as Nick the Greek. Dandolos' childhood was not one of great difficulties, as a son of wealthy parents, the Greek studied at the Greek Evangelical College and graduated in Philosophy. At the time, the newly graduated Philosopher was sent to the United States at age 18 by his grandfather and received a monthly amount of 150 dollars a week, an allowance, more specifically.

In the
United States
, the pro player even settled in
Chicago
for a time, but ended up moving to Montreal. At that time, young
Dandolos
became interested in horse racing and started playing in the sport. After that, the Greek came to be known for his peculiar lifestyle where he lost and earned large amounts of money from one hour to another. In the meantime,
Dandolos
earned over half a million dollars from
horse racing
and returned to
Chicago
, where he ended up losing everything he owned in card games and craps. It was at this time that he began to take a great interest in card games, becoming a major attraction in casinos at the time.
Check out all TODAY'S MATCHES and follow them live!
Intimacy with poker
In the late 1940s, more precisely in May 1949, the Greek played a legendary match with another legend,
Johnny Moss
. At that time, both players played in whatever format existed, further enhancing their poker image. All of these situations were inspiring for the creation of the
World Series of Poker
.
In one of the games played by both legends, it is said that the marathon lasted five months, with an amount ranging from
$2 to $4 million
. It was in this episode that one of the most iconic lines in poker emerged, where
Dandolos
uttered the following: "
Mr. Moss, I have to let you go
." Since then, this situation has become something of an urban legend among poker players. Furthermore, another situation that is constantly debated is that the
Greek
had accompanied physicist
Albert Einstein
to
Las Vegas
. At the time, Dandolos introduced
Einstein
to some game sites, stating that no police would get involved, as he would take care of it himself.
Another situation that became legend about
Nick the Greek
was winning a million dollars playing against a Texan. On that occasion,
Nick
would have won a million dollars in the early hours of the day and then called for an end to the game. By all accounts, the Texan got angry with Nick and accused him of being a coward for calling the end of the game while he was winning. In this,
Nick
allegedly asked for a new deck and shuffled the cards, asking the Texan to cut the cards and asking him to double up or fold. After the
Greek
's ultimatum, the Texan was intimidated and refused the proposal.
End of life
Toward the end of his journey,
Dandolos
was on the brink of bankruptcy and playing only the smallest poker games like $5 No Limit. At this time, Nick was asked how he had played for millions and was now making such small bets, and Nick replied, "
Hey, it's action, isn't it?
"
The Greek died on December 25, 1966 and was inducted into the
Poker Hall of Fame
in 1979. During his lifetime, Dandolos is estimated to have lost and won over
$500 million
. However,
Dandolos
is also known for
donating
over $20 million dollars to education and charities.
Play now at the biggest online poker house in the world, PokerStars!
Discover the best online sports bookmakers!