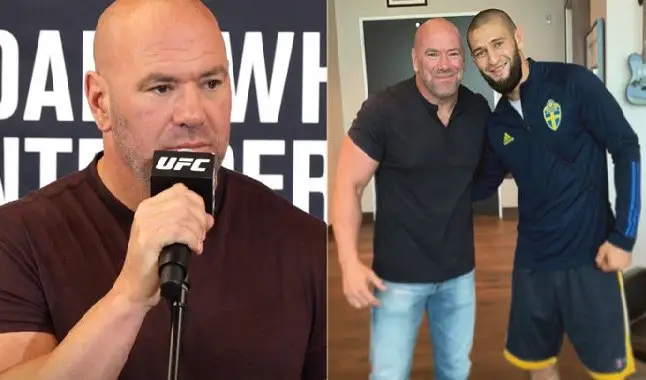 After the fighter's outburst, Chimaev's supposed retirement is ruled out by Dana White; stay in.
Considered one of the biggest names in the UFC in 2020, Chimaev had his retirement ruled out by Dana White. Chechen, but naturalized Swedish, Chimaev, was one of the biggest names revealed in MMA in 2020, after several years without a major revelation. On a brilliant start, Khamzat Chimaev won three of his first fights at the event, with an interval of just ten days between the first two.
Chimaev is relevant in two categories in
MMA
, welterweight and middleweight. Even before performing his exploits at the event, the Chechen was already being considered one of the main names to compete for the 77kg belt in the future. Despite all this, last Monday (01)
Chimaev
revealed something that surprised the MMA audience. In a message on his personal Instagram, the Chechen revealed that he would retire the gloves, saying that:
Check out all the matches today and follow them live!
"I want to say thank you very much to everyone for supporting me on my journey in this sport. I think it's over for me. Yes, I know I didn't win the belt, but this isn't the biggest victory in life. That decision can leave them sad, but my heart and body spoke for me. I want to thank my team @allstargymsweden and say thank you to @ufc ".
Before announcing his retirement from the ring,
Chimaev
suffered from Covid-19 symptoms and had not recovered 100% of his fitness. After this episode, the fighter had an appointment with
Leon Edwards
, but the meeting has been canceled three times since then. It is worth mentioning that
Chimaev
was taken to Las Vegas to be admitted to an American hospital, in order to receive treatment against Covid-19. During this time, UFC president Dana White explained why Chimaev said he was going to retire. In the statement,
Dana White
stated that "he is not going to retire".
"When he got here, the doctors took care of him, and they put him on prednisone, which is a nasty f**king steroid. So, he's on prednisone, and he's supposed to be taking this thing and chilling, relaxing, and letting himself recover. He went in and f**king trained today, felt like sh*t, and got super emotional and posted that. He's not supposed to be training, but you know, this guy's a savage. He wants to fight like every f**king weekend, and now he can't even train, so he just got emotional and posted that, but he ain't quitting. But he won't retire. Let him fight again in June. "
Bet on UFC fights through the best online bookmakers!