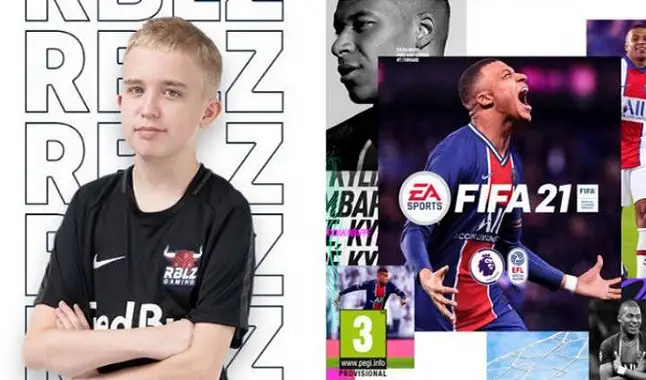 15-year-old Dane Anders Vejrgang has an offensive and expensive squad in FIFA 21; check out curiosities.
Record holder for being undefeated for 510 games in the FIFA 21 Weekend League, Anders Vejrgang has an offensive and expensive squad. The boy, only 15 years old, currently boasts a squad of extreme quality and super offensive in his fights in the FIFA 21 Ultimate Team. Playing for the club RB Leipzig, the Dane has a squad that includes Neymar, Cristiano Rolando, Mbappé and other players from the FIFA 21.

This week, the world witnessed the boy's great achievement, who was unbeaten for 510 games in the Weekend League. In the featured match, the player went to the virtual fields with an elite squad. Despite having the best players in his squad, Anders still has some of the most expensive players in
FIFA 21's Ultimate Team
mode. But how special is this squad?
Formed by 18 players,
Anders Vejrgang's
special cards are:
Holders
"Pope (FUTChampions);
Carlos Alberto "Capita" (Icon);
Bruno Fernandes (Premier League Player of the Month);
Zambrotta (Icon);
Traoré (FUT Freeze);
Cristiano Ronaldo (InForm Time of the Week);
Vieira (Icon);
Firmino (FUT Freeze);
George Best (Icon);
Mbappé (UCL);
Neymar (InForm Time of the Week);
"
Reservation
"
Rooney (DME Reward);
Son Heung-Min (Premier League Player of the Month);
Eto'o (Icon);
João Félix (La Liga Player of the Month);
Tavernier (DME HEADLINERS);
Klaiber (DME Showdown);
Robben (DME FLASHBACK);
"
Among all these cards, Anders' most expensive players are those with "InForm Week" rating, which is an overall version of "
Team of the Week
" players. Some Anders cards cost as much as 4.35 million
FUT
on
PS4
. Anders' entire cast costs 16.5 million FUT.
In addition, Anders' squad is a full plate for their confrontations, containing players with extreme skills. For example:
"Biggest overall: Cristiano Ronaldo - 94
Highest Acceleration attribute: Mbappé and Traoré - 96
Biggest Finishing attribute: Cristiano Ronaldo and Rooney - 97
Highest Crossing attribute: Bruno Fernandes - 92
Biggest Dribbling attribute: Neymar - 95
Greatest Defense attribute: Carlos Alberto Torres - 87
Greatest Physical attribute: Klaiber - 92 "
All these characteristics of the Dane's squad make his RB Leipzig one of the most offensive and expensive teams within FIFA 21. Thus, together with his skills, the boy always goes on the "field" to destroy his rivals.
Bet wherever you are in eSports through the best online bookmakers!
All about the growth of eSports betting.