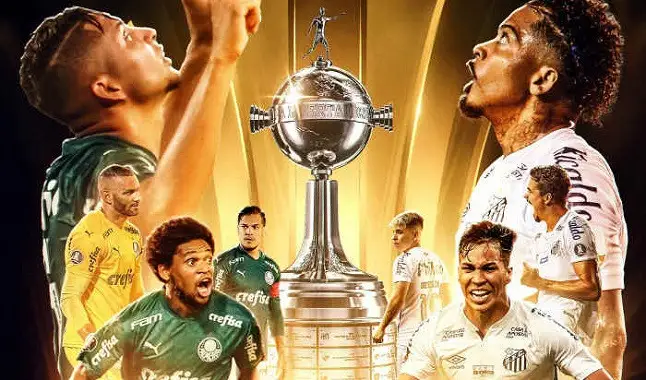 Palmeiras x Santos will make an electrifying match for the title of the Libertadores da América.
What a game! This Saturday (30), Palmeiras x Santos will make the final of the Copa Libertadores da América 2020. The two teams from São Paulo had great campaigns, but only one will be crowned with the title of the most important competition in America. Face to face will be the coach Abel Ferreira, the young Portuguese who will seek to enter the history of Palmeiras, and Cuca, an old acquaintance of Brazilian football who will try his second championship, after being champion with Galo.
There are two different styles, both in terms of coaches and teams. Santos without so much investment, but with his youth giving an answer and a devilish Marinho. Palmeiras, on the other hand, sees the financial contribution giving results, combined with the competence of its players and coaching staff, and reaches its first Libertadores final after the partnership made. All of this will add extra spice to the game, and in this way, we decided to separate some betting suggestions for you.
First, we will point out how bookmakers are seeing favoritism in this duel. Alviverde is seen as the chosen one to win the match, with an odd of 2.10 on average. Peixe comes in as an underdog, and his win is worth 3.75.
The two teams play a very offensive football and go after the opponents, and this was proved in the semifinals, when there was a rain of goals in the matches. Thus, a good choice of bet is the option Both Score, which is worth 1.95 in bookmakers.
Since the subject is goals, you can also choose the option that will reward you if more than 2 goals are scored in the match. From what was seen in the recent histories of the two teams from São Paulo, this is a very viable chance to happen. The odds for over 2.5 goals are paying an average of 2.30.
Finally, if you like some of the players from both teams, believing that they can lose their balance, we'll show you how much a goal is worth by some of the top athletes on those teams. On the side of Palmeiras, we believe that Luiz Adriano and Gustavo Gómez can swing the nets, and their odds are worth 2.60 and 9.00, respectively. On the side of Santos, the pair Marinho and Soteldo can triumph in the attempts of goal, and are paying 3.20 and 4.50, respectively.