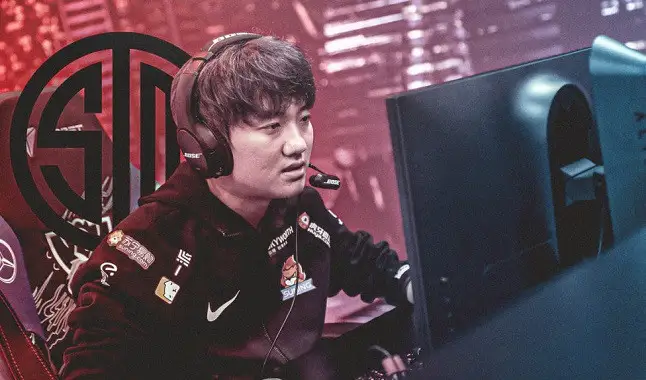 For $3 million per year, the organization Team SoloMid hires "SwordArt"; check here the details.
Team SoloMid hired "SwordArt" for $3 million a year after the player left Suning. The 23-year-old support, who was runner-up to the World of League of Legends by Suning, will have a new home in 2021. With the move to the United States, the Taiwanese will receive the highest salary from LCS, being US $ 6 million for two-year contract with Team SoloMid.
The official news was broadcast by The Washington Post after confirmation by the owner of Team SoloMid to sign the player. Andy "Reginald" Dinh, owner of TSM, revealed that "SwordArt" will be in charge of replacing Vicent "Biofrost" Wang in the year 2021.
"I think it's a lot of pressure on the players SwordArt is going to be playing with. He's a worlds finalist and there's a minimum level of expectation to be playing with a player of that caliber." - Dinh commented to the newspaper.
"I think the extremely large stretch goal is Worlds finals, I think it would be a travesty if we don't get to quarters. The expectations are really clear: our players better work their a — es off." - finished Dinh.
Check out Today's Matches at the Betting Academy!
Before signing the player, Team SoloMid suffered two casualties in its roster at the end of this 2020 season. Stars Soren "Bjergson" Bjerg and Yiliang "Doublelift" Peng were absent from their roles as players. "Bjergson" will be in charge of training the team and "Doublelift" Peng has chosen to retire from the competitive scenario of League of Legends.
"SwordArt" will be the highest paid player on LCS. The record was carried by Heo "Huni" Seung-hoon, who was hired in 2019 by Dignitas, for a salary of $ 2.3 million for the period of two years. "SwordArt" closed at $ 6 million.
The journey of the young Taiwanese began in 2013, when he wore the shirt of the organization Defenders. Without great deeds, in the same year the player signed with Gamania Bears, however without obtaining satisfactory results. After that, the support went to Flash Wolves, a team that remained from October 2013 to December 2018, managing to win titles such as: IEM Season XI - World Championship, LMS Spring 2017, LMS Summer 2017, LMS Spring 2018 and LMS Summer 2018. In 2019 the player had his debut for Suning, team in which he was present in the conquest of the vice-championship of the League of Legends World of 2020.