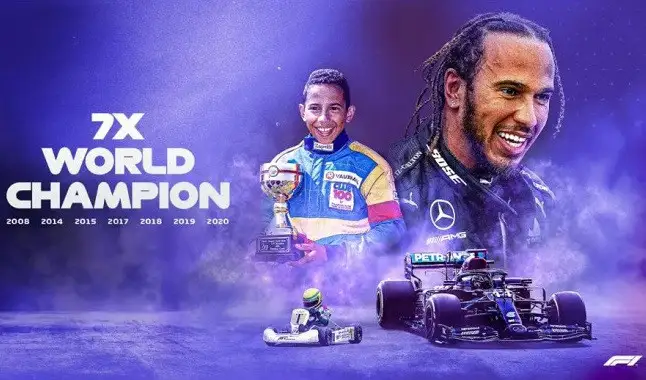 Lewis Hamilton enters to the list of the 10 older pilots to win in Formula 1.
Lewis Hamilton won the title of 2020 Formula 1 champion after winning the Turkish Grand Prix last Sunday, 15/11. But this was not the only achievement of the English driver, as it also represents, for him, the achievement of his seventh championship. Hamilton now becomes one of the 10 oldest drivers to win in the category.
Another historic milestone for Hamilton is the fact of reaching Michael Schumacher, becoming the second seven times champion of the category. However, the Englishman enters a select list that not even Schumacher managed: to be among the ten oldest champions of Formula 1, winning at 35 years of age.
The absolute holder of the record is Argentine Juan Manoel Fangio, since the 50s, when he won his last title at 46 years old.
But the list has other historical names:
10th - Niki Lauda: 35 years and 7 months.
The three-time champion won his last title in 1984, racing for McLaren.
9th - Lewis Hamilton: 35 years and 10 months.
Hamilton is now the ninth oldest F1 champion, having won his seventh championship with the Mercedes team.
8th - Damon Hill: 36 years old.
Even debuting only at the age of 31 in F1, Damon Hill won his title in 1996, by the Williams team.
7th - Mario Andretti: 38 years and 6 months.
Running for Lotus, Andretti was crowned F1 world champion in 1978.
6th - Alain Prost: 38 years and 7 months.
The great French driver was four-time Formula 1 champion. In his last title he raced for Williams in 1993.
5th - Nigel Mansell: 39 years old.
After 3 vices, Mansell finally got his title in 1992, racing for Williams.
4th - Graham Hill: 39 years and 8 months.
The legendary Graham Hill was a two-time champion with Lotus in 1968, almost 40 years old.
3rd - Jack Brabham: 40 years and 5 months.
Brabham won his last title with the team he founded. The year was 1966.
2nd - Giuseppe Farina: 43 years and 10 months.
The Italian was the first winner of F1. In 1950 Farina was champion riding an Alfa Romeo.
1º - Juan Manuel Fangio: 46 years and 1 month.
The Argentine, considered one of the greatest in history, went on to win his last title in 1957, already 46 years old.