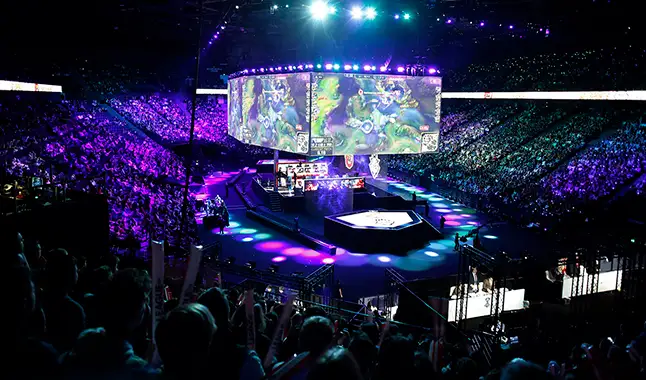 This weekend we'll have the semifinals of the League of Legends World Championship 2020; check here the details.
League of Legends World Championship started in September 29th going through play-ins phase, groups phase and then play-offs.
The best teams in all corners of the globe competed on the regional tournaments to be on the biggest League of Legends stage, the World Championship.
The group phase was composed by:
Group A: G2 Esports, Suning, Team Liquid and Machi Esports. Where Suning and G2 proved to be the best among them and moved to the play offs with 4 wins and 2 losses each.
Group B: PSG Talon, DAMWON Gaming, Rogue and JD Gaming. In this group, DAMWON and JD Gaming showed us the mechanical and almost flawless gameplay, moving to the play-offs with 5-1 and 4-2, respectively.
Group C: Fnatic, LGD Gaming, Gen.G and Team Liquid. The European Fnatic and the Korean Gen.G moved to the playoffs with a 5-1 and 4-2 games, respectively.
Group D: DRX, FlyQuest, Top Esports and Unicorns of Love. The Korean DRX and the Chinese Top Esports proved to be the best in the group and guaranteed their place on the playoffs with 4-2 and 5-1 games, respectively.
The Quarterfinals
On the play-offs, there was some expected matches and some upsets, but all of them full of emotions and high level gameplay.
The European G2 Esports, who reached the finals last year, smashed Gen.G with a perfect 3-0. The team was perfectly coordinated with flawless teamfights.
We can say the same about the duel between DAMWON against DRX, where DAMWON dominated for 3 games. Leading them to the Semi-finals with not much effort.
Both Chinese teams Suning and JD Gaming showed very good and coordinated gameplay but Suning ended up winning 3-1 to JD.
The matches between Fnatic and Top Esports were very emotional for the fans, since Fnatic started to win 2-0 to one of the favorites to win this year. Even though Fnatic played very well, Top Esports played the Reverse Sweep card and ended up winning 3-2.
The Semifinals
This weekend October 24th and 25th we'll have the exciting Semifinals with the European G2 Esports against the Korean DAMWON and the duel of Chinese giants, Suning against Top Esports.
The teams who win this weekend we'll be confronting each other in the Finals for the title of League of Legends 2020 World Champion.
Start betting on eSports here on the best online bookmakers!