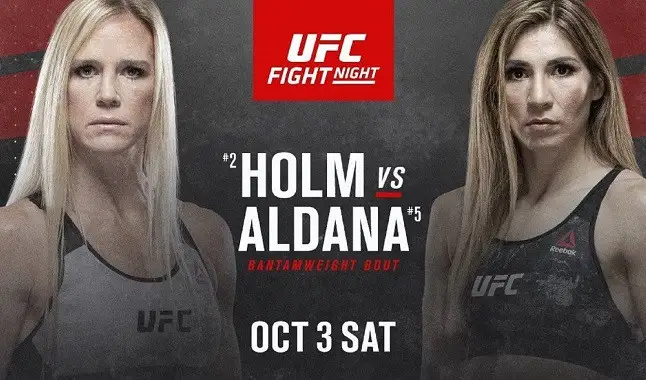 With plenty of matches that promise to be very exciting, here you'll find out everything about UFC on ESPN 16.
This coming Saturday, October 3rd, promises to be another great day for MMA lovers, and here you can find everything about UFC on ESPN 16. The stage will once again be the Flash Forum (Fight Island), in the United Arab Emirates. In all there will be 12 fights, starting at 12:30 am (UK time).
Matches on Preliminary Card
Carlos Condit x Court McGee – Welterweight
Charles Jourdain x Joshua Culibao – Featherweight
Kyler Phillips x Cameron Else – Bantamweight
Jordan Williams x Nassourdine Imavov– Middleweight
Loma Lookboonmee x Jinh Yu Frey – Strawweigth
Casey Kenney x Heili Alateng – Bantamweight
Luigi Vendramini x Jessin Ayari – Lightweight

Matches on main card
Holly Holm x Irene Aldana – Main Match (Bantamweight)
Holly Holm is a 38 year old American wrestler who has been considered one of the superstars of the MMA, having won the legend Ronda Rousey and staying with the Baltamweight belt. Holly has 18 fights in her cartel, having won 13 of them, 8 by knockout and 5 by points. Even though she is not living such a splendid phase, she is still a hard fighter to beat. Of her last 8 fights, 5 were defeats. However, the fighter emerged victorious from her most recent match, against Raquel Pennington, in January.
Irene Aldana is a 32 year old Mexican fighter and has been in the MMA since 2012. Aldana has 17 fights in her curriculum, having won 12 of them, being 6 by knockouts, 3 by submission and 3 by points. Although she does not have the brightest of resumes, she comes in a crescendo, having won 5 of her last 6 fights. In her most recent fight, she beat the Brazilian Ketlen Vieira by knockout, which until then was undefeated.
Besides being the most important fight of the night, it also tends to be one of the most exciting. Although Aldana seems to be living a better moment, Holly holds the favouritism, because she is a great fighter and for everything she has presented inside the octagons. Thus, Bet365 has a great odd value of @ 1.80.
Yorgan de Castro vs. Carlos Boi - Heavyweight

Yorgan de Castro is a fighter from Mindelo, Cape Verde, and has little time in his MMA career. Professionally in mixed martial arts since 2018, he has only 7 fights, having won the first 6 and being defeated in his last and most recent. He has won 5 knockout victories and 1 by points. His last match was UFC 249 against Greg Hardy, and the defeat came after a unanimous decision by the judges.
Carlos Boi is a Brazilian fighter who is 25 years old and is another one with a short curriculum within the MMA. So far he has fought 9 times, came out the winner in 8, being 6 by knockout and 2 by decision of the judges. His only defeat was in his most recent fight, valid for UFC Fight Night 172, in July this year, against Sergey Spivak.
This is another of the great fights of the night, with two great fighters, even with not so extensive careers. Yorgan has the favouritism for the triumph, and so in Betfair you find an odd worth @ 1.40.
Germaine de Randamie x Julianna Peña - Bantamweight
Germaine de Randamie is a 36-year-old Dutch wrestler who has also played in the penalty category in addition to her 46 career kickboxing fights. In the MMA, she has 13 fights, having won 9 of them, 4 by knockout and 5 by points. Her last duel was worth the belt of her category, against the Brazilian Amanda Nunes, having been defeated by unanimous decision and leaving the belt with the Brazilian in UFC 245.
Julianna Peña is a 31 year old American fighter and has been in the MMA since 2009. There have been 12 fights so far, 9 of them victorious, 3 by knockout, 3 by submission and 3 by points. In her last fight, she won over Nicco Montaño, in July 2019.
Roman Kopylov vs Tom Breese - Middleweight
Roman Kopylov is a 29 year old Russian fighter with only 9 fights on his resume. Coming out victorious of 8, it was 7 victories by knockout and one by points. His only defeat was by submission, in his most recent fight, valid for UFC Fight Night 163, against Karl Roberson, in November 2019.
Tom Breese is a 28-year-old English fighter who has also played in the Welterweight category. Having started in the MMA in 2010, he has 13 fights in his cartel, having emerged victorious from 11 of them. He won 4 knockout victories, 6 submissions and one by points. His only 2 defeats were among his 3 most recent fights, the last one in February this year.
Dusko Todorovic vs. Dequan Townsend - Middleweight
Dusko Todorovic is a 26-year-old Serbian fighter who has been fighting professionally in the MMA since 2015. So far he has fought 9 times and won in all of them, being 5 by knockout, 3 by submission and 1 by points. In his last fight, he beat Teddy Ash by unanimous decision of the judges.
Dequan Townsend is an American fighter who is 34 years old and has an extensive resume of 32 fights. Of these fights he won 21, 12 by knockout, 5 by submission and 4 by points. However, he does not live a good moment, since he comes from 3 consecutive defeats. In his last fight, in February of this year, he was defeated by Devin Clark, through an unanimous decision of the judges.
Bet on UFC with the best bookmakers in your country!