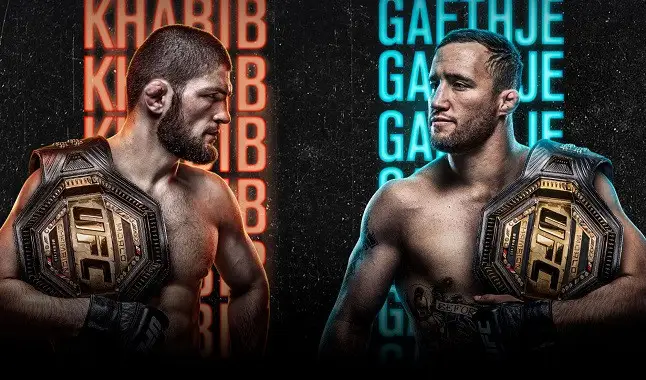 With great breathtaking matches, here you'll find out everything about the UFC 254
Another great Saturday for MMA lovers, worth the lightweight belt, learn all about UFC 254. The event will take place this Saturday, October 24th, at the Flash Forum (Fight Island), in the United Arab Emirates. The scheduled time for the beginning of the event is 3:15 pm in Brasilia time. The main card, which contains the main fights, will only start after 7pm.

Matches on Preliminary Card
Stefan Struve x Tai Tuivasa – Heavyweight
Jacob Malkoun x Phil Hawes – Middleweight
Alex Cowboy x Shavkat Rakhmonov – Welterweight
Sam Alvey x Da Un Jung – Light Heavyweight
Umar Nurmagomedov x Sergey Morozov – Bantamweight
Casey Kenney x Nathaniel Wood – Catchweight (up to 63,5 kg)
Joel Alvarez x Alexander Yakovlev – Lightweight
Matches on Main Card
Khabib Nurmagomedov x Justin Gaethje – Lightweight
Khabib Nurmagomedov
is a 32-year-old Russian fighter who has been in the
MMA
since 2008. He started in mixed martial arts and he was on the middleweight from 2009 to 2011. He is a great fighter and with a resume to cause envy, since, he fought 28 times and won them all. He won 8 knockout victories, 10 by submissions and another 10 by points. In UFC 223 he won the lightweight belt. In UFC 229 he made his first belt defense by beating none other than
Conor McGregor
, in Las Vegas, by submission in round four. His last fight was against
Dustin Poirier
, finishing the opponent in the third round, defending the belt for the second time, in UFC 242.
Justin Gaethje
is a 31-year-old American fighter who has been in the MMA since 2011. It is not only his opponent who has an impressive record, as Justin fought 24 times and won 22 of them. There were 19 knockout victories, one by submission and 2 by jury decision. Moreover, his only 2 defeats were by knockout. The American has already come from 4 consecutive victories, which will give confidence to this difficult duel that he will have to face. His most recent match took place in UFC 249, when he beat
Tony Ferguson
by technical knockout in May this year.
This promises to be a very tight fight, as it has two great fighters and is worth the Lightweight belt.
Khabib
holds the favouritism for being defending the belt once again, and for never having been defeated in his career. Thus,
Bet365
has an odd worth @ 1.30 for the Russian's victory. If you want to bet your chips on Justin, you can also find an odd worth @ 3.75 at
Bet365
.
Robert Whittaker x Jared Cannonnier – Middleweight
Robert Whittaker
is a 29 year old New Zealand fighter who has been in the MMA since 2009, having already passed the mid and middle classes. In his cartel, Robert has 26 duels, having won 21 of them, being 9 by knockout, 5 by submission and 7 by points. Robert lost his welterweight title to
Israel Adesanya
by knockout at UFC 243 in 2019. In July of this year, on Fight Island, he won the belt by defeating
Darren Till
by a unanimous decision of the jury.
Jared Cannonnier
is a 36-year-old American fighter who has been with the MMA since 2011. He fought 17 times and won 13 of them, being 9 by knockout, 2 by sumbmission and another 2 by points. Even if he doesn't have such an impressive resume, he comes from 3 consecutive victories, and certainly he is motivated for this fight. In his last fight, he beat
Jack Hermansson
by technical knockout, in September 2019.
Alexander Volkov x Walt Harris – Heavyweight
Alexander Volkov
is Russian and 31 years old, he has been with the MMA since 2009. In his extensive curriculum, he has 39 fights, having emerged victorious from 31 of them. He has a good record and of his victories, 20 were by knockout, 3 by submission and 8 by points. However, he does not live a good moment, because of his last 3 fights, he was defeated on 2 of them. In his most recent duel, he was overtaken by
Curtis Blaydes
, by unanimous decision of the jury, at the UFC on ESPN, on June 20
th
this year.
Walt Harris
is a 37 year old experienced American fighter and has been in the MMA since 2011. With 22 fights on his resume, he has 13 victories, all of them by knockout. He is visibly a fighter who always seeks the fight standing, aiming to knock out his opponent always, after all this is his main quality. His last fight took place in the UFC on
ESPN
, when he was defeated by
Alistair Overeem
, by technical knockout in the second round.
Lauren Murphy x Liliya Shakirova – Flyweight
Lauren Murphy
is a 37 year old American boxer and jiu-jitsu trained. In her cartel, she carries 12 fights for the MMA, having won 9 times. It was 7 by knockout and 2 by points. Murphy comes in a crescent in her career, having emerged victorious from her last 3 fights. Her most recent entry in the octagon was in June of this year, at UFC on ESPN, in Las Vegas. In the opportunity, the fighter won against
Roxanne Modafferi
, by unanimous decision of the jury.
Liliya Shakirova was rushed to fill the UFC 254 schedule after fighter Cynthia Calvillo had to go into quarantine. Liliya has nine MMA fights on her resume, having won eight times, three by knockout, four by points, and one by submission. In addition, her only defeat was by points. She will now make her debut under UFC contract. In her last fight, she beat Aygul Abdvakhid by technical knockout in the second round, in October 2019.
Magomed Ankalaev x Ion Cutelaba – Light Heavyweight
Magomed Ankalaev
is a 28 year old Russian fighter with 15 fights on his resume, having won 14 of them. It was 8 by knockout and 6 by points. His only defeat was by finishing. In February of this year,
Magomed
beat
Cutelaba
with only 38 seconds of fight. Now, he accepted the challenge to give revenge to his rival, in a fight that promises strong emotions.
Ion Cutelaba is a 26-year-old Moldovan fighter. Even being younger compared to his opponent, he has 21 fights in his cartel, having emerged victorious from 15 of them. Thus, 12 of his victories were by knockout, 2 by submission and 1 by points. Now, he must go with everything to win this fight, because, besides his defeat in less than a minute, it was he who asked for revenge.
Magomed
is widely favoured for having easily won the other match between them. However, as the opponent asked for revenge, this should not be such an easy fight for either side. Thus, in
Betfair
it is possible to find an odd worth @ 1.35 for Magomed's victory. If you want to bet on
Cutelaba
, you find the odd of @ 3.90.