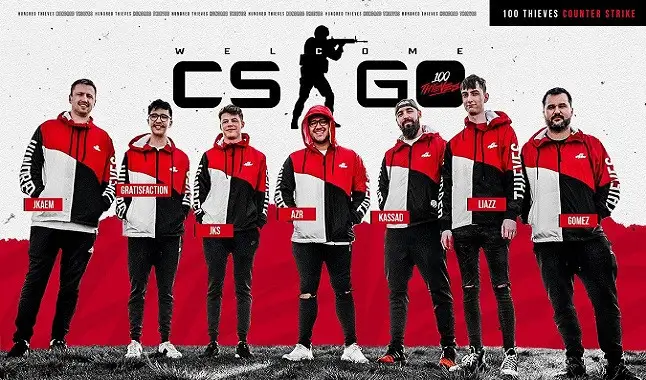 The organization 100 Thieves left CS:GO; check here the details.
The US team of 100 Thieves has disconnected from CS:GO. Last Monday, an official statement from the organisation reported the decision to leave the Counter-Strike: Global Offensive scenario.
The official announcement came via a video made by the organisation's CEO, Matthew "Nadeshot" Haag, who claimed that several factors had led the company to take this course, to leave the CS:GO scenario. One of the factors that has most complications for the organisation is that in the coming months CS:GO competitions will be more concentrated in the European region.
Haag stressed that the loss of points in the RMR and the changes in the cast drove the organisation to make this decision. There were also other reasons, such as some players being unable to use the team's headquarters in Los Angeles. Haag reported that he wanted to keep the team close to the organisation's own HQ to provide better support to the professionals, which unfortunately was not done adequately.
The CEO reported that there may still be a possibility of the organisation returning to the CS:GO scenario: " We might find ourselves in this community and in part of this game again with another iteration of a roster but there's just too much ambiguity, too much vagueness and too much uncertainty for us to be part of it right now.". It is worth remembering that the organization 100 Thieves had already disconnected once from the CS:GO scenario.

At the moment, the last participation of the team as 100 Thieves in CS:GO will be competing in the IEM New York North America, which will close next Sunday.
Currently the team is in third place in Group B of the competition, despite having good results lately, beating Cloud9, Triumph, Liquid and Evil Geniuses consecutively.

It has also been revealed that some players in the squad already have proposals for other clubs. Player Justin "jks" may sign a contract with Complexity Gaming, while Joakim "jkaem" is open for bids.
However, as reported, this is not the first time that the organisation has made the decision to leave CS:GO. In 2018, the team chose to leave the scene after a series of problems with visa documentation and conduct with the "Villa Mix". In addition, team 100 Thieves was runner-up in the ESL Pro League Season 12: North America tournament, earning US$38,000 after losing to the Brazilians FURIA Esports.

Bet on eSports through the best online bookmakers!