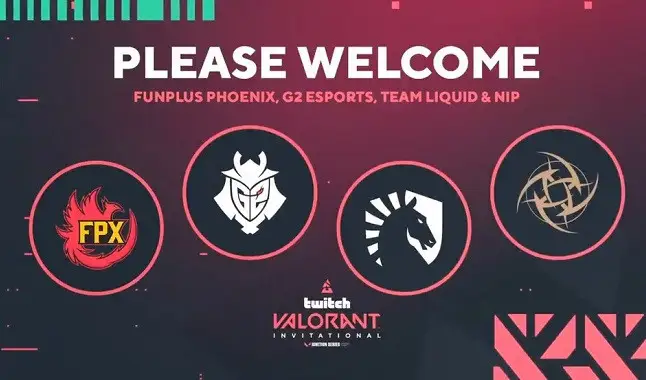 BLAST Organization annouonced the Invitational for Valorant. Check here the details.
Appreciated by the CS:GO crowd, BLAST organization announced the Invitational for Valorant Twitch Invitational, a tournament that will count with the biggest teams in Europe. With the total prize pool of €50.000, the announced teams were: G2 Esports, FunPlus Phoenix, Ninjas in Pyjamas and Team Liquid.
The Invitational will happen the same way as Ignition Series – the official circuit of the game -, devided by the regions of each scenario. The dates set for the competition are: September 11th until the end of 13th September. The championship will count on six series, where the teams FunPlus Phoenix and Ninjas in Pyjamas confront each other on one side, while on the other, we have G2 Esports and Team Liquid. The next stage will be disputed by the winning and losing teams.
The Invitational Official Schedule
Friday, September 11th
10h30 – Funplus Phoenix x Ninjas in Pyjamas
14h30 – G2 Esports x Team Liquid
Saturday, September 12th
10h30 –Lower Bracket Semifinal
14h30 –Upper Bracket Final
Sunday, September 13th
9h30 – Lower Bracket Final
13h30 – Final
About the teams
G2 Esports
G2 Esports team is a solid team inside the competitive League of Legends and CS:GO scenario. It's been years the team places themselves in a great state of expansion. Nowadays the organization has teams for Rainbow Six Siege, Rocket Leage, Fortnite, SimRacing and Valorant.
Ninjas in Pyjamas
The organization, famous for their achievements inside the competitive world of CS:GO and DOTA 2, entered head-on into Valorant. Besides, the company already has teams in FIFA and Rainbow Six Siege.
FunPlus Phoenix
Founded in 2017, the organization has a strong reputation within the competitive League of Legends and CS:GO. It also has teams in Fortnite, Call of Duty and Valorant.
Team Liquid
When it comes to grandiosity, Team Liquid dominates. Known for its cast in League of Legends, DOTA 2 and CS:GO, Team Liquid has a wide range of teams. Currently the organization has casts in: StarCraft II, Hearthstone, Smash, Fighting Games, PUBG, Quake, Rainbow Six Siege, Clash Royale, Fortnite, Apex Legends, Auto Chess and Free Fire.
Bet on eSports on your favourite bookmaker!