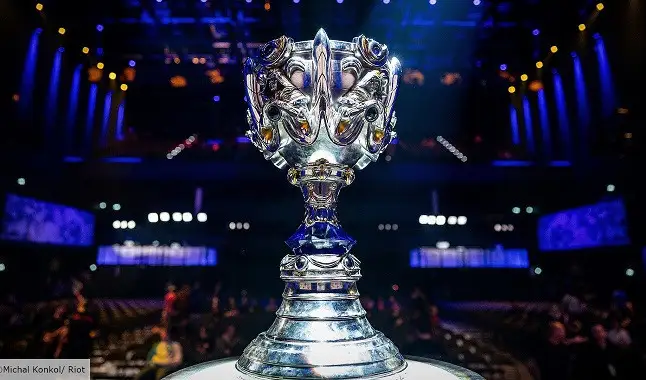 Worlds 2020 has already dates and schedules announced by Riot Games; Check here the details.
The biggest League of Legends competition, Worlds 2020, had dates and schedules announced by Riot Games themselves in this last Monday. The competition with be disputed in China and will have teams representing each region.
Now teams who won championships of each region will have to go through the Play-in phase that is scheduled to September 25th.
Worlds 2020: dates and schedule according to Riot Games
Play-in phase (September 25th, 26th, 27th, and 28th) at 12:00 GMT
Play-in phase (September 28th and 29th) at 10:00 GMT
Group phase (October 3rd, 4th, 5th, 6th and 8th, 9th, 11th) at 12:00 GMT
Quarter finals (October 15th, 16th, 17th, 18th) at 14:00 GMT
Semifinals (October 24th and 25th) at 14:00 GMT
Final (October 31st) at 14:00 GMT
About the first phase of the championship, we will have 10 teams. In this stage (Play-in Phase) we will have two groups where all the teams will confront each other. After this phase, the best placed teams will go to the Group Phase of the World Cup. The worst placed teams will be eliminated. Meanwhile, the third and fourth best placed teams will have to digest each other in a Bo5. At this stage, whoever wins will go on to the next one.
It is worth remembering that the Worlds take place in several different cities. For example, in the year 2019 we had clashes in Berlin, Madrid and Paris. However, this year things have changed. Riot Games has chosen to host the competition in only one city, in Shanghai, China. All this is because we try to minimise all the risks to players, employees or anyone else involved in the production of the World Cup.
Qualified teams for Worlds 2020
Group Phase
China (LPL): Top Esports, JD Gaming and Suning
Europe (LEC): Fnatic, G2 and Rogue
South Korea (LCK): DragonX and DAMWON Gaming
North America (LCS): FlyQuest and Team SoloMid
Asian Southeast (PCS): Machi Esports
Play-in phase
China (LPL): LGD Gaming
Europe (LEC): MAD Lions
North America (LCS): Team Liquid
Asian Southeast (PCS): Paris Saint-Germain Talon
Turkey (TCL): Papara SuperMassive
Brazil (CBLoL): INTZ
Japan (LJL): V3 Esports
Russia (CIS): Unicorns of Love
Latin America (LLA): Rainbow7
Oceania (OPL): Legacy Esports

Bet on eSports with the best bookmakers in your country