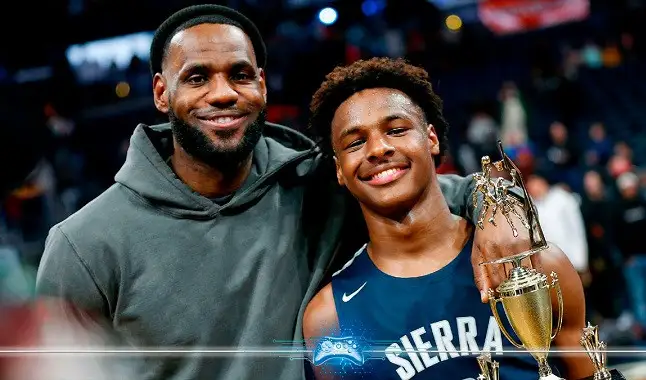 LeBron James' son is hired by FaZe Clan; confer the details.
Recently we received the news that LeBron James' son has joined FaZe Clan. The official announcement, informing that the son of the NBA star had been hired by the North American team, was posted on the last Sunday. Bronny James is now 15 years old and plays as shooting guard for Sierra Canyon Trail Blazers team, in Los Angeles. Besides that, the basketball star's son has become famous through internet content creating in videogames like NBA 2K and Call of Duty: WarZone.
FaZe Clan is one of the most important organization in the eSports industry, owning solid teams in games like: Call of Duty, Counter-Strike: Global Offensive, PlayerUnknown's Battlegrounds, Rainbow Six Siege, FIFA, Valorant and Fortnite. Besides, the organization has contract with more than 40 content creators (live streamers).
James hiring for FaZe Clan reinforces the content creators' team. James has already an immense reach on social media. Only on Tik Tok, the young man has already 4,3 million followers, while on Instagram, he has 5,4 million. On Twitch, James has already 300 thousand followers on his official channel.
It's worth to say that last week, FaZe Clan announced the hiring of other shooting guard of Philadelphia 76ers, Ben Simmons. The players was said as an investor, content creator and ambassador of the organization that has the goal of expand globally and generate more products.
"My role at FaZe is now much deeper than the initial investment" – Stated Simmons.
Besides these two names, there are other big personalities investing in FaZe Clan, such as: Jamal Murray (Denver Nuggets), Josh Hart (New Orleans Pelicans) and Meyers Leonard (Miami Heat). Outside of the sports world, there are also musicians investing on the organization, like: Pitbull, Swae Lee, Yo Gotti, Offset and Lil Yanchty.
FaZe Clan CEO and co-owner Lee Trink's statement was: "Ben's investment is significant not only in terms of dollars, but in how he can use his personality to impact the business."
This is not the first time basketball players have been involved with the world of eSports. The legend Shaquille O'Neal is one of the investors in the NRG, which is one of the most assisted organizations in Twitch. Michael Jordan was also part of a big organization that acquired Team Liquid, famous in League of Legends, DOTA 2, CS:GO, Rainbow Six Siege, PUBG and Fortnite.
Check here the best bookmakers to bet on your country!