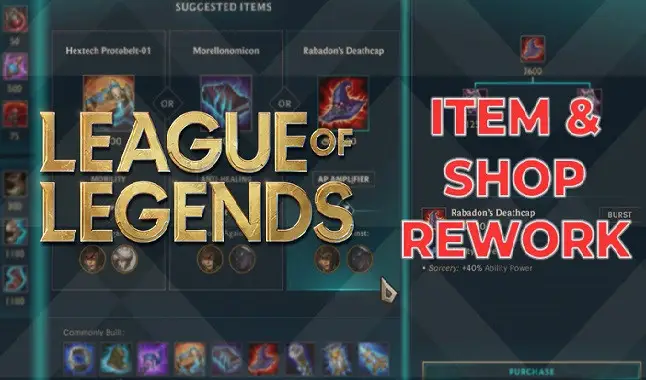 Check here the changes in the 2021 League of Legends season.
With the League of Legends World Championship closer and closer, Riot Games announced new changes in this 2021 season of League of Legends. For now, the developer revealed the news inside the Summoner's Rift shop, along with the new "Mythic Items".
In the moment, this is the new surprise for the new season that will arrive in League of Legends. The "Mythic Items" will provide the possibility to add abilities to other items. Besides that, Riot Games modified the whole interface of the Summoner's Rift shop, leaving the window cleaner, brighter and more informative.
According to a video published on the official Youtube channel, Riot Games defines the creation of the "Mythic items" as a "cornerstone in your builds" for this new season. This results in "great effects that define your playstyle from game to game".
What we know is that each route will have specific items and that only one Mythic item can be purchased. During the official video, it is shown that Mythic items will work with marksmen in different ways, from explosive damage to items to stay alive or escape from a certain situation.
On the new interface and item shop Riot Games has announced that it will re-evaluate all 200 current items in the shop in order to "ensure that they have clear purpose, healthy gameplay and are satisfying to use". This way, the company revealed that it will focus on new item creations, focusing especially on bruiser champions who today depend exclusively on the Ability Power to generate more damage to enemies.
In addition, it was said that these new items will take the place of a third of the items already in the shop. On the other hand, two thirds of the items will remain on the game, where some will be adjusted with the new Riot Games proposal.
New items announced until this moment:
Crimson Shieldbow
This item will be used by Marksmen, where the item will help against burst damage dealt by assassin champions.
+50 Attack Damage
+15% Attack Speed
+20% Critical Strike Chance
+12% Life Steal
Behemoth Slayer
This item will provide additional true damage in each third attack.
+60 Attack Damage
+25% Attack Speed
+20% Critical Strike Chance
Galeforce
This item was created for champions with low mobility speed who need to dodge incoming threats.
+60% Attack Damage
+15% Attack Speed
+20% Critical Strike Chance
Bet on eSports on the best bookmakers in your country!
Know how the "Spectator" bug works on CS:GO.