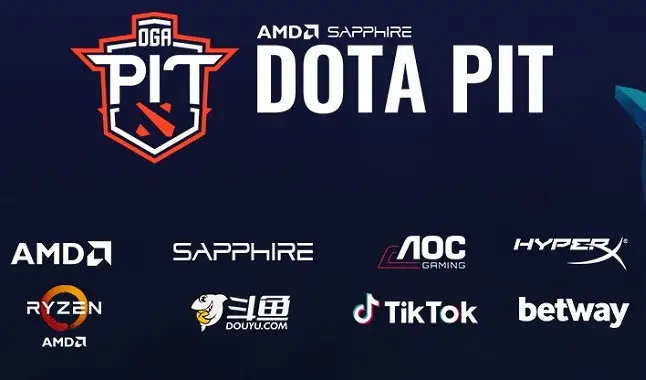 One of the biggest online bookmakers, Betway, closed partnership with DOTA 2 tournaments; check the details here.
Earlier this week, we had the great news that some of the biggest online bookmakers, Betway, have partnered with DOTA 2 tournaments. Betway's own announcement said that the online bookmaker had made an agreement with the AMD SAPPHIRE OGA DOTA PIT EU / CIS eSports tournaments which is projected to take place between the 20th and 26th of September. Along with the statement, another major competition that
Betway has partnered with is AMD SAPPHIRE DOTA PIT CHINA, which is scheduled to take place between September 29th and October 8th.
The competition's organiser, One Game Agency, will hold the tournament between the regions of the European Union and the CIS (Commonwealth of Independent States). The first phase will feature qualifiers, where four teams will have to face each other in a double elimination key. After this, the best teams proceed to the main phase of the tournament.
Already in this central phase of the competition, the organization has invited six more teams to play the double elimination playoffs. Meanwhile, the Chinese tournament will start with the Group Stage and then proceed to the playoffs.
All matches will be in Bo3 format (best of three), with the guaranteed award of US$ 175,000 for the European Union region and CIS. While for the Chinese region, the award will be US$ 90,000. It is worth mentioning that the big teams in the scenario such as OG, Alliance, PSG, Team Liquid, Team Nigma and Team Secret are already confirmed.
Check out the statement from the CEO and founder of OGA:
"OGA are proud to announce Betway as a partner of the OGA DOTA PIT Online Series. Featuring the world's best DOTA 2 players, the competition is guaranteed to be fierce, and the opportunity for the community to find the best odds on the market having Betway as our event partner."
In addition, Betway Head of eSports himself, Adam Savinson, commented: "We are delighted to partner with OGA Dota PIT for yet another world class DOTA 2 tournament. They have a rich history of delivering some of the most exciting events of the year, and we are looking forward to joining their legacy."
Bet on eSports on the best online bookmakers in your country!
Check here: LoL Worlds 2020 have dates and schedules announced.