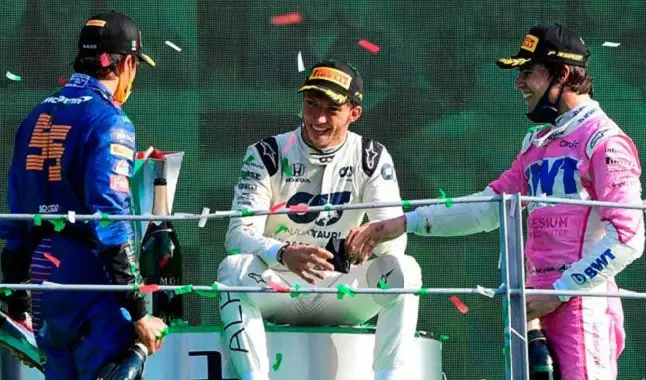 Check out the 20 cents bet that amounted more than $30.000 thousand on F1.
It's exactly what you just read, a bet of 20 cents amounted more than $33,000 on F1 on the last Sunday (6). The race resulted in a podium extremely interesting. The biggest prize for F1 Italian Grand Prix was for the pilot Pierre Gasly. In second place was Carlos Sainz and third, Lance Stroll.
The official news about the achievement came through a portal from Finland, Italehti. The gambler had made his guess in the online bookmaker, Veikkaus. The guy had made his suggestion on the podium composed by Gasly, Sainz and Stroll which earned him an unimaginable amount. According to information, the bet made as a simple joke resulted in a pocket hit for the gambler.
In just one game the gambler deposited only the amount of $0,20 in a probability that was unlikely to podium in the GP, and received the exact jackpot of $33,398.
According to the sports betting website, in the year 2017 there was an event similar to this. A podium had paid many times more than the amount played at the time. The Top 3 of the 2017 Azerbaijan GP had formed Daniel Ricciardo, Valtteri Bottas and Stroll, which yielded about 63,467.70 for each euro. In this race, three players bet only €0.20 and made more than €12,600, about $14,886 for each bettor.
A new surprise in Formula 1?
For this coming weekend at the Tuscany GP, online bookmakers in Europe are paying about 1.44 for every euro at Lewis Hamilton. Meanwhile, for Gasly the gambler can take 101 times the amount deposited in case the driver repeats the feat of the last weekend. However, the biggest value paid to the winner, in this case, is for Nicholas Latifi, who can yield 5,001 times the value bet.
Know here the best bookmakers in your country.