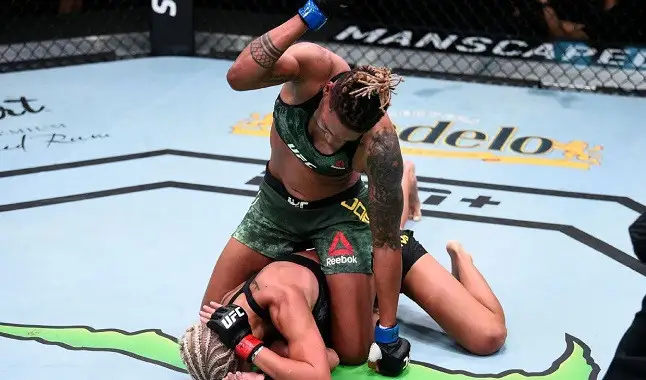 After betting on the victory of Mariya Agapova, bettor loses $25,000 in UFC
Just like any other sport, the fighting world is not so different and it has also unexpected results. Because of that, a bettor lost $25,000 on UFC while betting on the fight between Shana Dobson and Mariya Agapova.
The fight was on August 22nd, in Las Vegas, EUA. This victory was considered to be one of the biggest surprises this year in the UFC. Agapova was the favourite to win this combat, but ended up being defeated by her opponent.
Shana Dobson, even before entering the octagon, was already considered one of the main surprises of the card, although on the second round won against Agapova by technical knockout. For Shana victory, the odds were 8 to 1, and for the misfortune of many bettors, she won.
According to information from "Super Book Sports", a punter betted a high value of $25,000 dollars on Agapova victory. His identity wasn't revealed.
In case Agapova had been the winner of the fight, the bettor would have around $1,800 of profit, less than 10% of the bet placed. However, if he placed his bet on Dobson would have profited around $110,000.
About the fight
The bettor lost $25,000 on UFC having made a bet on the winning of Mariya Agapova, who counted with 9 victories and 1 loss in her card. On the other side there was Shana Dobson, a fighter that was oscillating and counted with many losses in her card. Besides that, Shana was coming from 3 consecutive losses.
Dobson won the fight by Technical Knockout only on the second round and the opponent had to be taken to the hospital on a stretcher.