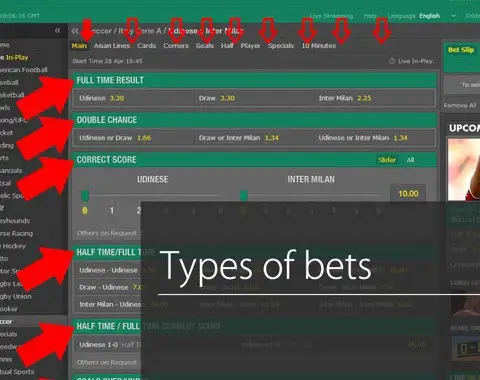 I will talk here about the types of bets that we will find in bookmakers, presenting those betting options that are more common and talking a little about the differences between some types of bets.
1x2 bet (or final score)
A simple bet is a 1 × 2 market is where we choose a possible result for the 90 minutes of the game plus overtime (does not include extra time or penalties). That is, we choose whether:
Host team win
X- Draw
Visiting team win
Example: Udinese vs Inter Milan
1. - paid 3.30 - Udinese win
X - paid 3.30 - Draw
2. - paid 2.25 - Inter Milan win
As we already know, each bet has an odd (amount paid for each event). For example, if you bet 10 euros on Inter Milan and they win, the amount to receive is (stake bet times the odd, which is 10 euros x 2.25. That is, it will come out with 22.5 euros.

Double chance bet
Double chance betting is when you can cover two possible outcomes with just one bet. The odds are lower but the chances of winning increase, for example:
1. or X = Host team wins or draws
X or 2 = Visiting team wins or draws
1. or 2 = Victory of the host team or the visitor
See how the odds change in this example. As expected, the greater the chances of success, the lower the odd:
1. or X - pays 1.66 = Udinese win or draw
X or 2 - pays 1.34 = Inter Milan win or draw
1. or 2 - pay 1.34 = Udinese or Inter Milan win
Draw no bet
This is a very popular option among bettors: "Draw no Bet". In other words, if the match ends in a draw, the stake is returned.
Example: if you bet on Inter Milan's victory against Udinese and the game ends 0-0 (or another draw), the bet is void, and the risky money is returned to you.

Over/under 2.5 goals
This bet refers to the number of goals that the teams will score in a game. The most used form with this system is over or under 2.5. However, there are several margins, like more or less than 3.5, 4.5 and so on.
We know that there is no half goal, but this is just to help you when betting. If you bet:
Over 2.5 goals - if the match has 3 or more goals you win the bet.
Under 2.5 goals - if the match has 2 goals or less you win the bet.
This same logic is valid for the other goal markets or even points, if you bet on sports other than football.

European Handicap (or result handicap)
When there is a clear technical disparity between both teams, there is a type of bet called a "handicap". In this bet, goals or points are added for the weakest team or the goals or points of the strongest team are reduced in order to balance the possibilities. This bet consists of 3 general types equal to 1x2 but then the handicap is added:
In the same example from behind, the bet on Unidese 1 means that Udinese already starts with a goal advantage.
If you bet on Inter Milan -1, the Inter team will have to win by 2 or more goals difference for you to win the bet.
If you bet on Draw -1, you will only win if the difference is exactly 1 goal for the favorite team, in this case, Inter Milan. If you bet on Draw 1, the favorite will have to lose exactly by a 1 goal difference. These options are not often used, but they tend to have much higher odds.

Asian Handicap
This form of handicap is very similar to the European Handicap, but it is simpler to understand and is more used in the main bookmakers in the World, as it does not contain the options: "Draw -1 and Draw 1".
In practice, the bets come down to two options:
Taking the example of Udinese vs Inter Milan:
If you bet on Inter Milan AH -0.5, it is enough that Inter fulfill the Handicap (disadvantage) of -0.5 goals. As there is no half goal in football, a simple victory by Inter Milan is enough for your bet to be a winner.
If you bet on Udinese AH 0.5, it is enough for Udinese to avoid defeat, as it is as if the team came in with a symbolic "half goal" advantage, and so, if the game ends in a draw for example, this advantage would be used.
The big difference for the European handicap happens when the Handicap options are in whole numbers. Example: Inter Milan AH -1.
If you bet on Inter -1's victory: Inter Milan would have to win by a 2 goal difference, as they would face the disadvantage of -1 goal. If the team wins exactly by 1 goal difference: instead of the bet being lost as in the European handicap (as remember, there it gives you the option of Draws -1 and 1), the bet is canceled.
The same is true if you had bet on Udinese AH 1 and the game ended 1x2 for Inter, for example. The bet would also be void because after adding the chosen handicap, it would be a tie.
There is also the Asian Handicap which consists of two bets in one.
Complicated? It is easy to understand. Example: Inter Milan AH -1, -1.5.
Let's imagine that we would bet on Inter Milan. As you can see, there are two bets on this Handicap: -1, -1.5 (NOTE: they will always be separated by a comma). In this way it is as if your bet were two bets of half the value.
If Inter Milan's team wins by 0-1, you will have problems, but not so much. The first part of the bet (-1) will be void because it draws. The second part of the bet will be lost (-1.5) because Udinese would have an extra half goal.
In this way, half of your bet would be returned and the other half would be lost. In other words, if you bet a value of 10 euros, it is as if 5 euros were for the bet "Inter Milan -1 ″ and 5 euros were for the bet" Inter Milan -1.5 ″..
The opposite would happen if you had bet on Udinese AH 1, 1.5. If the game ended with Inter Milan winning by 2x2, the handicap would be used in favor of the visiting team, causing half of your bet to be void (as it is as if the game ended 2 × 2) and the second part of your bet was a winner (as it is as if the game ended 2.5 × 2).
Half-time / final result bet
You can bet on the result of the first and / or second half. The idea here is to agree who will be the winner of the first half and also of the second.
Your bet on this market works as a multiple in which you have to hit both parts of the game in order to win the bet. It is more difficult to get it right but you will also have a bigger prize.

Multiple bets
The multiple bet allows you to bet on several events in one bet. Where the various odds of these bets will be multiplied and will have the best benefit. Note that in multiple bets you cannot combine several options from the same game (example: you cannot bet on a team winning by combining more than 2.5 goals in that match with the option).
The most normal thing to do in multiple bets is to combine many different games in one multiple bet, and here you can bet on the final result of several games, but you can also bet on the number of goals, etc.
There are some different types of multiple bets, but the most normal is the multiplication of all the chosen odds (thus giving a much larger odd at the end), but note that for you to win the bet, you will have to hit all the individual results! Miss just one to not win the multiple.
As an example, let's take these three games to place our multiple bet:
Udinese (3.40) x (3.25) Inter Milan (2.20)
Juventus (1.66) x (3.75) Fiorentina (5.50)
Lazio (1.25) x (5.50) Parma (15.00)
Let's assume that we are going to place a multiple bet of 100 euros in total, choosing a victory for Inter Milan, Juventus and Lazio. At the end of the three games, if we hit those three results, we won our multiple bet!
Then we win the following: 2.20 x 1.66 x 1.25 * 100 € = 458 €.
In the previous calculation, we multiplied the three odds at which we placed our multiple bet with the amount we risked on our bet.
Over time you will understand how each type of bet works. Remember, practicing is the best way to start absorbing these ideas, and nothing better than choosing a good website to start and make your guesses. And a good website to help us improve each bet is here at the academy with the best statistics, and the necessary database for each bettor, to make your analysis for your bets
Good bets!