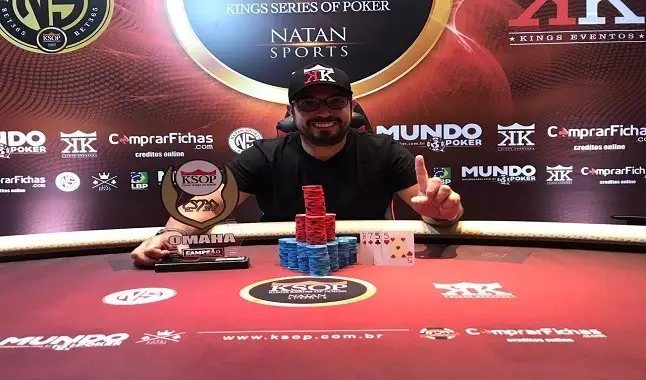 "I think that before venturing into big tournaments, it is necessary to study the game a lot, practice, develop a solid way of playing".
Pedro Brum, native from Rio Grande do Sul, born in Porto Alegre is the interviewee of Game Play Poker. The athlete has been standing out in the Brazilian poker scene, and outlines great goals for his future.

Recently, Pedro won the title of PL Omaha at KSOP Rio de Janeiro, in which the athlete has become more and more specialized. He overcame great players in the dispute, such as: Pablo de Menezes, Paulo Gini, Felipe Beltrani, among others.

Last season, the Rio Grande do Sul's player hit the post, and ended up in the third position of the ranking. But, Brum has already stated that one of the big goals for this season is to end his participation at the top of the ranking. The player showed confidence and promised to do his best to reach his goal.

Check out the full interview with Pedro Brum below:

1- How did you start your career in Poker?

I started my career in a home game among friends, about 12 years ago, there I fell in love with poker.

2- Have you ever suffered any kind of prejudice from friends/family because of the game?

Ignorance and misinformation on the subject usually causes a certain distrust, and I went through it. But a little patience and interest in explaining solved everything, today everyone supports me and knows about the growth of poker as a mind sport in Brazil.

3- How do you try to improve your game nowadays?

I love reading poker writings and articles, as well as commenting and reviewing my plays and decisions with fellow players.

4- What are the future goals for your poker career?

I intend to learn and further improve my knowledge about the game, explore new variants, and I have the dream of one day playing WSOP in Vegas!

5- What do you think about the evolution of the sport and the players in the country?

It is a very good time for poker as a sport itself. The organization of these great tournaments that we have, certainly provides a technical evolution of the players as well.

6- What are your main poker inspirations?

I admire successful careers, great achievements within poker. Daniel Negreanu for example, has a lifetime dedicated to poker, is certainly an inspiration.

7- Besides poker, do you have any other source of income?

Yes, I'm a lawyer, I'm not a poker professional yet, maybe one day ...

8 - Recently you were champion of PL Omaha at KSOP, how did you feel after conquering this title overcoming great opponents?

Wonderful feeling, it was my main title until then. It is very good to see that years of dedication and study paid off, as it is very difficult to win a tournament of this level with great players.

9 - What tips can you give to anyone who is thinking about starting to play poker?

I think that before venturing into big tournaments, it is necessary to study the game a lot, practice, develop a solid way of playing. Bankroll management is also very important to be able to practice poker responsibly.