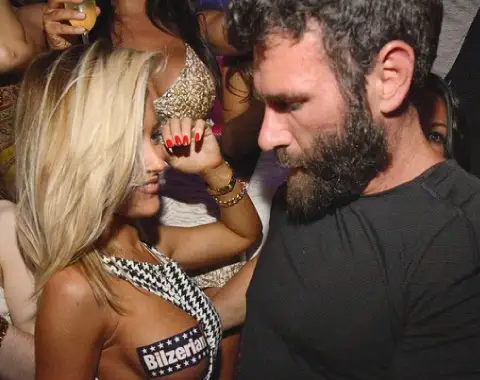 Considered the king of instagram, the north american lives a life envied by some and criticized by others.

Get to know Dan Bilzerian's "king's life".
Controversial, eccentric, bizarre and iconic - these are adjectives made by more than 20 million Instagramers who follow his lifestyle. At times there are naked women, at other times weapons or luxury cars, Dan Bilzerian is totally considered the playboy of poker.

Before going viral, Bilzerian was only known within the male sub-culture of High Stakes Poker or by the core of fans who maintained their online registration.

But a ten-second clip from the 2013 World Series of Poker live broadcast was enough for Bilzerian to ascend in the virtual world: sitting on the viewers' stands he was captured at a time when he was caressed by an elegant woman with long hair.

The live broadcast of the 2013 World Series of Poker made Bilzerian an Internet phenomenon.
Since then, the internet has looked on Bilzerian's strange and disturbing phenomenon. Crowned the King of Instagram, his feed documents a lifestyle seemingly free from moral, financial and legal constraints - a story for a Jason Statham's movie.
In addition to his controversial Wall Street investor father having an IQ of a genius, his mother, Terri, his younger brother Adam, and Dan himself had the same gift. After joining the Navy, where he did not complete his degree, he enrolled at the University of Florida to study Administration and Criminology. Poker started at that time and never stopped.
With just a one-way ticket to Las Vegas, he managed to turn $10,000 into $187,000. With this considerable bankroll, he returned to his studies, while improving his skills in "cash games" after school.
With a one-way ticket to Las Vegas, he managed to turn $10,000 into $187,000.
The first attempt to win a major tournament was disappointing. He only took the 180th place with $36,000 in prize money, while the winner took home $8.5 million.
However, Bilzerian's charisma was not indifferent to the tournament's broadcaster, ESPN. A sponsorship with Victory Poker, a game room now defunct, prompted him to make some of the first public appearances. Meanwhile, in private money games, Dan Bilzerian became known for playing "loose aggressive".
In the first tournament, he only managed 180th place with $36,000 in prize money, while the winner took home $8.5 million.
In 2014, in an interview for the Wall Street Journal, Dan Bilzerian acknowledges that he inherited some money from his father - a financier and criminal who, in 1993, won a $62 million fine from the U.S. Securities and Exchange Commission. However, he reveals that $50 million were won in less than a year
playing poker
.
Bilzerian currently lives in a gated community in the Hollywood Hills, accompanied by his cat and Zeus, his pet goat. Some believe that he made his own poker fortune before his trust funds became accessible. On the other hand, others argue that Bilzerian only has the luxury of participating in more profitable tournaments because of his father's offshores assets.
Whatever the truth, at the age of 36, Dan Bilzerian has only one answer:
"Good thing I'm rich and I don't give a f ***."