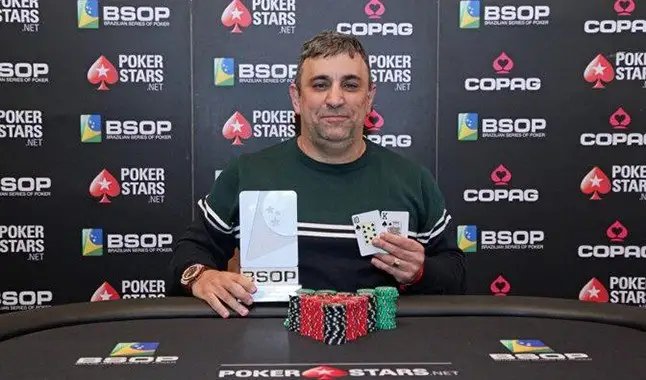 This player has achieved a record score in the history of the BSOP.
This has been a year of great glory for Marcelo Mesqueu. This player continues to achieve great results in tournaments. In season 14 of the BSOP, he already achieved five impressive titles, 21 final tables and 34 ITMs.
These numbers made it possible for Mesqueu to reach a record in the history of BSOP, even before competing in the last stage of the season, which will take place in Sao Paulo.
With 4,114 points, Marcelo Mesqueu beat Saulo Sabioni's score of last year. This makes this "Carioca" close to becoming the Brazilian Poker Champion.
Marcelo Mesqueu is currently playing KSOP, in Rio de Janeiro, and has given an exciting interview. Check it out below by reading the full interview:
1- How did your poker career start?
A: A friend showed me an online poker application. I started to play and fell in love. The results arrived quickly and, as I am very competitive, I sent him "prints" of my wins, all of this in 2007.
2 - At the beginning did you face problems or prejudice by family and friends because they did not understand how the game works?
A: No, I always played everything. Since I was very young I played all kinds of card games, which made it easier for me to migrate to poker. Since I already played all kinds of games, I was under no pressure. My family was already used to games. In fact, my family members are my biggest fans.
3- How is your routine as a poker player?
A: If you want to be a winner, you must study hard, always trying to study the events that happened at the poker table when you did not understand the outcome of the hand, especially if you are at high-level tables, that is, in the biggest and most expensive tournaments. And then, by analogy, apply what you learned in your game. Many of my friends and I always discuss situations that occur at the table, it is very good to know what the best think about certain situations.
4- How are you trying to improve your game now?
A: It seems like a joke, but the best way to improve is never thinking that you have reached the maximum of knowledge. If you think you know everything, surely you will not win. The second way to improve, and in my opinion the most important, is to play all tournaments as if it were the final table of the WSOP Main Event. In addition to allowing you to concentrate more, all the results are special.
5- What do you think about the evolution of Brazilian poker players?
A: It's strange how Brazilian players are at such a high level. Recently I played in Barcelona and I can say that we have many Brazilian players that are equal or better than many players known worldwide. But simply, few people know us, because our currency is devalued and this prevents that in the great tournaments there are several Brazilians at the table. But if we put together the best and play the best tournaments, we would quickly see results, which is already happening online.
6- How do you feel after achieving a record score in BSOP?
A: I feel great satisfaction, but I am still focused on the Brazilian title, to enjoy it all then. It's like eating a chocolate cake, but always looking at the icing on the cake. I always want more and better.
7- What are your future career goals?
A: Participate in the world circuit in 2020 and win a WSOP, any parallel event, and bring another title to Brazil, as my friends have done.
8- Is poker your only source of income? If not, what is your profession?
A: I am a lawyer, I have a construction company, a restaurant and a very famous club in RJ (all inclusive), which is in Barra da Tijuca. Poker is just a very lucrative hobby (laughs).
9- Who are your main inspirations in poker?
A: I have several, it would be unfair to quote some and forget someone, but I admire those who play for the love of the game and not just for money. Money is a consequence of a good job.
10- What advice can you give to those who are starting and want to learn more and more about poker?
A: 1st. Have control of the money you have available to grind without compromising yourself. This way you will not be pressed.
2nd Study hard, only then will you improve your game.
3º Do not think that you are the best when you have good results. Always play with blood in your eyes and always watch the rivals when you are not involved in the hands. This will reveal facts that can be used for your benefit later.
4th You should know that nobody is so intelligent that they cannot learn anything and that nobody is so ignorant that they cannot teach something.
5th The most important thing is to be like a sponge, to absorb everything that happens in your career and at the tables, copy the good things and avoid the bad ones.