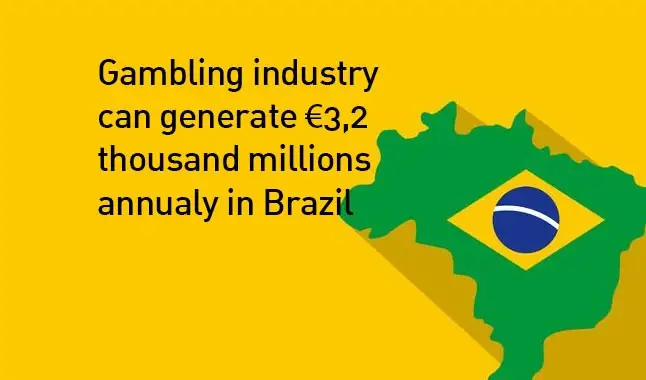 The House of Representatives bill that legalizes gambling makes hoteliers hopeful.
After 78 years of banning gambling on Brazilian soil, the issue is back to the House of Representatives, and this has been dragging on for six years. The Senate (PLS184/14) and House of Representatives (PL442/91) Bill seeks to recover the legality of practices.
A study conducted this year reported that if all games are released, both online and physical, the sector can move €3,2 thousand millions annually in the Brazilian economy, and in addition, can be generated €9 thousand millions in annual taxes. With the implementation of bookmakers, the job market will also benefit, because it is estimated that 658,500 new jobs would be created. Hotel, construction and real estate industries would benefit most from legalization. With the release of bookmakers, the government also raises around 3,7 thousand millions in licenses and permits.
With the prohibition of activities on Brazilian soil in recent decades, illegal gambling has gained strength. Activities such as slot machines, local games, such as "jogo do bicho", sports betting, among others move about €11 thousand millions per year. This places Brazil among the champions in the informal game ranking.
This move to casino regulation is due to the release of sports betting, which is approaching a positive deal.
Large gaming groups have already expressed a desire to settle in and invest in Brazil. These include MGM, Enjoy, Caesars and Las Vegas Sands.
The proposal
At first the proposal only focuses on legalizing casinos in integrated resorts, an idea that was unsuccessful in the House. This is because the major hurdle for regulation is about which modalities will be regulated. The battle now surrounds the release of all types of games and urban casinos.
Hoteliers cheered up: for Bruno Omori, president of ABHI-SP (Brazilian Hotel Industry Association of São Paulo), the best way out for major urban centers is for bingo and casinos to be operated by the municipalities.
"It is a democratic business, to which the entire population can have access, without being linked to any specific hotel. The benefits for hotel occupancy and consumption capacity are numerous", he said. "The release must be made without restrictions, helping the end of illegality," he added.
Parliament's position
President Jair Bolsonaro has already spoken out in favour of legalizing gambling and also casino facilities in tourist spots. Rodrigo Maia, leader of the House of Representatives, and David Alcolumbre, president of the Federal Senate, are also in favour of legalization.
A survey revealed that 52,1% of parliamentarians are in favour of regulating all types of games, yet 40,8% are against it. The other 7.1% did not know or did not opine about it.
"Congress is not all bad. The evangelical workbench has been divided, and what could once have been a hindrance is no longer. Unfortunately, due to the congested agenda and other major votes, the bill should not be voted on this year", said Alexandre Sampaio, president of FHBA (Brazilian Federation of Lodging and Food). "If legalization happens, we will need the support of foreign companies that have business expertise", said Sampaio.
Public opinion on the subject
Global Views on Vices 2019 conducted a survey with the Brazilian population, which showed that 66% of respondents are in favour of casinos, while 25% were against it. Regarding online bets and gambling, 64% of respondents are in favour and 25% against.
Due to the regulation of sports betting that has been on the agenda in recent years, the Casino Lobby has increased, focusing very strongly on the political environment, taking advantage of the loopholes that the process of legalizing sports betting has been leaving.