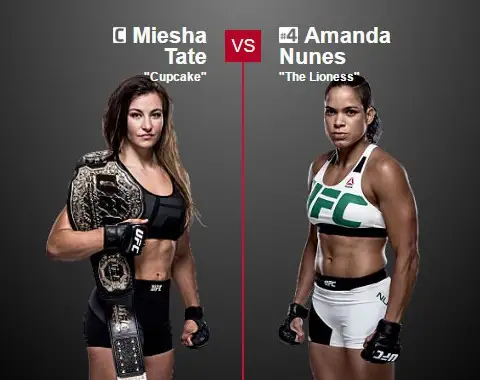 Miesha Tate, a 29 year-old American fighter, is the current bantamweight champion. Her opponent, Amanda Nunes, is a 28 year-old Brazilian with well-rounded style, based on her boxing and jiu-jitsu skills.
Our betting suggestion is...
Miesha Tate is a 29 year-old American fighter, with an MMA record of 18 wins and 5 losses. She is the current Bantamweight champion. Her UFC debut was against former champion Ronda Rousey. Although she lost the fight, she nevertheless, she did show quality and was the only fighter to fight 3 rounds with Rousey. After that, she has beaten Liz Carmouche, Rin Nakai, Sara Mcmann and Jessica Eye getting a chance to fight for the title with Holy Holm.
Holy had surprisingly beaten Rousey and gotten the title. Once again Miesha Tate was considered to be the underdog but she put on a great fight, with good striking, submitting the champion Holly Holm in the 5th round with a rear naked choke. To sum up, one could say Miesha Tate has fought the best in the UFC and only lost against Ronda (although she didn't go down easy), winning all other fights.

Amanda Nunes is a 28 year-old Brazilian fighter, known as The Lioness. After a few impressive fights in Strikeforce, she got a UFC contract and since then registers 4 wins and only 1 loss, against Cat Zingano.
She is a well-rounded fighter, good on her feet and on the ground, making good use of her boxing skills and her black belt in jiu-jitsu. She is very dangerous on the ground, but has won 3 of the last 5 fights by knockout. She won the last fight by decision, but dominated her opponent through her boxing skills. However, she is said to have endurance problems, so she is usually strong in the first 2 rounds, but struggles in the last rounds, when she usually throws less punches and is notoriously weaker. Moreover, she doesn't seem to have the same arguments and experience as Tate, who has fought the best and won.

The Brazilian fighter is strong and can put up a good fight, but Miesha Tate has had great performances in the past, facing and beating the best. She put up great fights against Ronda Rousey and Holly Holm, so she has proven she's a great fighter. Therefore, we believe the American will dominate the fight and get the win, keeping the belt.
Betting Suggestion:
Miesha Tate to Win – 1.45 – Bet365
Recommended reading: "Tips to Bet on the UFC"