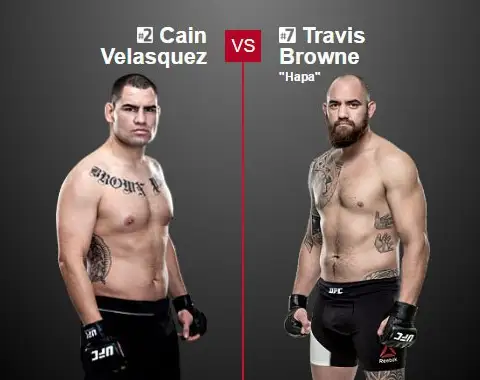 Caín Velásquez is one of the main contenders in the heavyweight division and has had great moments in the UFC. His opponent, Travis Browne, is an aggressive fighter who relies on his strength.
In this fight both contenders have one punch knockout power, so a well-timed strike be either of them can quickly put an end to the fight... so our betting suggestion is...
Caín Velásquez is one of the main contenders in the heavyweight division. This American fighter has had great moments in the UFC and has held the title twice. He needs to win this fight to get a chance to fight for the belt soon.
Velásquez had a perfect record of 9 wins and no losses when he took the title from Brock Lesnar. But in 2011 Brazilian Junior Cigano took the title from him. He got his revenge by beating the Cigano twice, in 2012 and 2013, winning back the title. But in his last fight he fought former champion Fabrício Werdum and lost the title again. Velásquez comes to the octagon for this fight as the favourite, with a record of 13 wins and 2 losses, relying on his striking ability and strength to get the win.

Travis Browne is a 33 year-old American fighter (as old as Velásquez) with a record of 18 wins and 3 losses. He is an aggressive fighter, usually making good use of his strength. Sure enough, 7 of his last 9 fights have ended in the first round.
The closest he ever got to a title fight was in 2014, when he fought Brazilian Fabrício Werdum, knowing the winner would get a title shot. However, Werdum won that fight via judges' decision. After that, Browne has beaten Brendan Schaub and Matt Mitrione and lost against Andrei Arlovski.

This is a fight between two extremely strong fighters, so the first good hit may put a quick end to the fight with a knockout. Both fighters are aware of this, so Velásquez and Browne should avoid taking too many risks in the first round. However, neither fighter usually spends too much time studying the opponent, as they prefer dominating through aggressiveness. Therefore, we believe there is a good chance the fight will end in the first round, after a quick initial studying time.
Betting suggestion:
Under 1.5 rounds – 2.00 – Bet365
Recommended reading: "Tips to bet on the UFC"