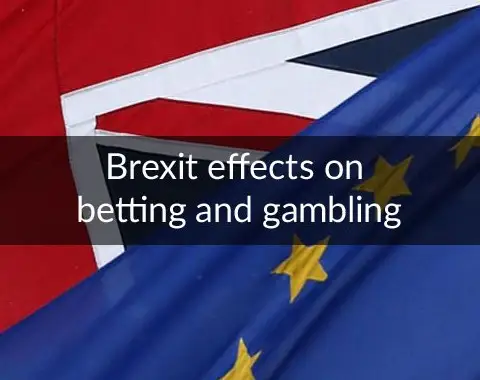 Interview by iGaming Business webinar to the consultant Christina Thakor-Rankin about: Brexit impact on gambling regulation in the UK and EU, Gibraltar based operators, iGaming employees in and from UK companies and finally the Brexit effects on the profitability of online betting and gambling companies.
On June 24th 2016 the results of the UK referendum on whether to remain or leave the EU were announced with a 52% majority choosing to leave.
Since then we have seen a multitude of theories on how this will impact the igaming industry from regulation and tax through to employment and the economy.
In this iGaming Business webinar Christina Thakor-Rankin a Principal Consultant at 1710 Gaming will talk about the potential impact of Brexit on the igaming sector as well as answer questions from the audience.
Is Brexit going to have an impact on regulation?
Maybe, maybe not.
If Brexit goes ahead and the UK does leave the EU, I think undoubtedly there is going to be an impact in terms of the European directives such as data protection and payment directives. I personally don't see an huge impact on gaming regulation.
When we look at what the EU is about: common markets, freedom of services, free movement of persons, etc. Betting and gambling is probably one of the few services that does not fall under the list of the principles of the EU. Every state seems to have its own particular regulation. Europe has tried a number of times to take a step towards harmonization but it hasn't really worked so far.
So for me, saying immediately and given how the European landscape is fragmented under EU, I'm struggling to see how this could change under EU without the UK.

What does Brexit mean for Gibraltar and the operators based there?
Gibraltar is a slightly trickier question. I think, weather the UK leaves the EU or not, Gibraltar is always going to be slightly precarious for those operators who have a base there. Initially however, there is a degree of comfort to be found in the fact that Spain has its own internal political issues currently, with 2 general elections without a clear result and a 3rd general election on the way. There is also the possibility that if whoever is elected in Spain starts to focus too much on Gibraltar, would see that as an opportunity to try and seek for freedom.
The fact remains that until the article 15 is actually imposed, a progress move towards the UK exiting, Gibraltar remains very firmly affiliated with the UK, and part of the EU. So anything Spain does now might be seen as an act of aggression, and thus raises the question whether the leaders of the EU would seat there and let that happen at the time when the EU itself is going through such difficult times.
There are rumours that Gibraltar is talking to Scotland, and that Scotland and Gibraltar will tear up, both of them as territories contributed and have a say in the referendum, so technically there is nothing stopping them forcing together and approach the EU and try to remain regardless of what happen with the UK.
That of course will lead to the very interesting question of whether Gibraltar would then have to look to at independence from the UK. Which would I suspect pose a different problem for the operators.
I think the final point in terms of Spain is that it seems the Spain's interests in Gibraltar is not only political, it is also economic. There have been murmurs that Spain sees Gibraltar as a nice easy way to plug some of the deficit as a result of taxing game revenues.
Common sense indicates that if you see the Gibraltar gambling golden goose as an opportunity, it probably makes sense to keep that goose happy and alive for a period of time.
So I would suggest that it is not a huge amount of benefit economically on scaring the operators that are based in Gibraltar right now.

Will Brexit have an impact on European employees in the UK and UK employees in the EU?
I suspect that the UK employees in the EU will continue to be covered by EU legislation including human rights and social legislation.
In terms of the EU employees in the UK, I suspect that the betting and gaming sector will benefit from what happens with other sectors. For me, the sectors that will ultimately dictates how the EU nationals in the UK are going to be governed are going to be things like the NHS (National Health Service). Latest statistics suggest that if all EU citizens were asked to leave there would be a significant impact on the NHS. The other sector which would potential also be impacted is the financial sector.
Irrespective of if the UK stays in the EU or not, the UK will still want to be seen as an economical power house. And in order to do that, it has to embrace the fact that it needs international workers, whether that's from Europe or outside from other parts of the globe.
So I think those will be the drivers in terms of how the EU citizens will be managed overall. Of course, at some point there might be a skill based point system for entry and get residency, but I think within the immediate short term future, 2 to 3 years, I can't see a huge amount changing.

How will the economic conditions created by Brexit affect the short and long term profitability of igaming companies?
Any gaming company that offers products in different countries is inevitably going to see some form of hit. The extent of that hit, I suspect, will depend on how quick the parliament stabilize.
Other possible impact is if inflation goes up in the UK, there is the question of if the UK costumers can continue to spend on betting and gambling. With my experience in this sector, I would say that actually betting and gambling is probably one of the more recession-proof sectors. People tend to spend less on leisure activities such as 'going out', and replace it by a leisure activity which might cost some money engaging, but may actually give them a little bit more back than what they started with. So we might see trends where people spend more on the lottery, and less on going out to pubs or restaurants.
There might be another impact as a result of changes in regulation. All operators know that changes in compliance, inevitably at some point come at the top. Again, we don't know to what extent that might happen. Some of it might come to the UK reviewing some of the legislation, some of it may be a result of the UK repealing legislation and replacing it with something new. I think the betting and gaming sector is likely to be impacted less, though, specifically by betting and gambling regulations and more so by general regulation and legislation.
I think there will be an impact in this sector, but in the short term it will be fairly minimum, unless something happens with staying in Gibraltar eventually.
In webinar, 30th June 2016, organized from iGamingBusiness website.