The Euro 2016 is just around the corner! The opening match is to be played next Friday, between France and Romania. To help you decide if it's of good value to place a bet in this match, we present a few statistical and qualitative analyses.
Home team opening match history
Edition
Opening match
Date - hour
Euro 1984 France

W

France 1-0 Denmark
Tue, 12.Jun.1984 - 20:30
Euro 1988 Germany

D

East Germany 1-1 Italy
Fri, 10.Jun.1988 - 20:15
Euro 1992 Sweden

D

Sweden 1-1 France
Wed, 10.Jun.1992 - 20:15
Euro 1996 England

D

England 1-1 Switzerland
Sat, 08.Jun.1996 - 16:00
Euro 2000 Belgium/Netherlands

W

Belgium 2-1 Sweden
Sat, 10.Jun.2000 - 20:45
Euro 2004 Portugal

L

Portugal 1-2 Greece
Sat, 12.Jun.2004 - 18:00
Euro 2008 Austria/Switzerland

L

Switzerland 0-1 Czech Republic
Sat, 07.Jun.2008 - 18:00
Euro 2012 Poland/Ukraine

D

Poland 1-1 Greece
Fri, 08.Jun.2012 - 18:00
Euro 2016 France

France vs Romania
Fri, 10.Jun.2016 - 20:00
One could think that the host team has a great advantage because of the support of the fans, but in fact the opening match isn't always favourable to the home team, has you can see from the opening matches of Germany ('88), Sweden ('92), England ('96), Portugal ('04), Switzerland ('08) and Poland ('12).
In fact, in the last 8 editions of the Euro the host team has only won the opening match twice. So be careful when weighting the home advantage factor!
Head to head history
Let us begin by analysing the head to head history between France and Romania. It immediately stands out that France and Romania haven't met in the last 5 years, so these stats aren't as relevant as they could be. There are, nevertheless, a few interesting tendencies.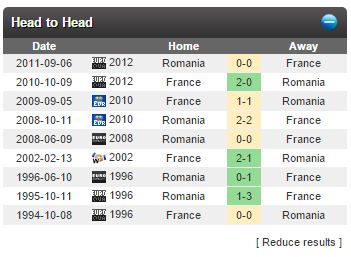 Tendency 1: In the last 5 matches, 4 have ended in draws. If this tendency holds up, there is an 80% chance of draw, which means a 1,25 odd.
Tendency 2: In the same 5 matches between France and Romania, 4 have ended with Under 2,5 goals. Once again, if this tendency holds up, there is also an 80% chance of Under 2,5 goals, which means a 1,25 odd as well.
By carefully analysing these stats and the latest performances of both teams, you may conclude that these bets are of good value, since at
William Hill
, for example,the Draw odd is at 5,00 and the Under 2,5 Goals is at 1,70.
But there are other stats to consider besides the head to head history. If you value the recent form moment of the teams the most (analysing the latest matches) you should keep reading, because this Under 2.5 tendency doesn't hold up.
Recent form moment of the teams
France vs Romania stats page at the Academy: https://www.onlinebettingacademy.com/stats/match/euro-stats/2024609/1/prelive
France has won 9 of the last 10 friendly matches and only didn't score against England, having scored 13 goals in the last 4 matches.
Romania tied 6 of the last 10 matches and only lost 1 of the 5 friendly matches played this year, scoring in all matches except against Spain.
FIFA Ranking
Source: http://www.fifa.com/fifa-world-ranking/ranking-table/men/index.html
An analysis of the FIFA ranking shows that these teams are closer than many may think. France is 17th in the rank and Romania is 22nd. Focusing the analysis in the matches against national teams from the top of this ranking, we can see that:
France has only lost against England (11th) and has won against Germany (4th), Portugal (8th), Netherlands (14th) and Russia (29th);
Romania has only lost against Ukraine (19th) and tied against Spain (6th), Italy (12th), Hungary (20th), Greece (40th) and Congo DR (52nd).
Opponent
Ranking
Opponent
Ranking

W

France 2-0 Germany
4

D

Romania 0-0 Spain
6

W

Portugal 0-1 France
8

D

Italy 2-2 Romania
12

L

England 2-0 France
11

L

Romania 3-4 Ukraine
19

W

Netherlands 2-3 France
14

D

Hungary 0-0 Romania
20

W

France 4-2 Russia
29

D

Romania 0-0 Greece
40

W

France 2-1 Serbia
54

D

Congo RD 1-1 Romenia
52
Study our stats page carefully, analyse all the information you may get on these national teams and share comments with the community at our Academy forum. Don't miss out on the opportunity to bet with value!