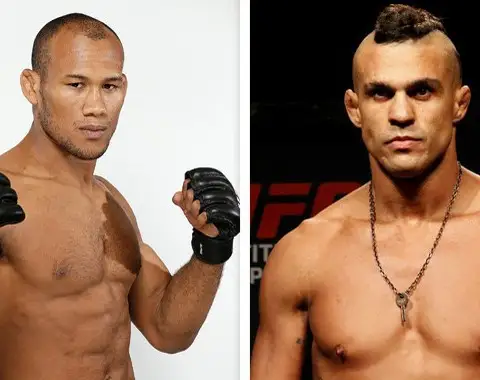 These two fighters are strong, explosive and have great knockout power. Ronaldo Jacaré is going through an excellent form moment and faces an opponent that...
Ronaldo Jacaré is 36 years old and a black belt in Judo and jiu-jitsu. He is currently going through the best form moment of his career, with 5 wins in the UFC, over Chris Camozzi, Yushin Okami, Francis Carmont and Gerard Mousasi. But he lost his last fight, against Yoel Romero, in a split decision, therefore giving his opponent a chance to fight for the title instead of him.
His MMA record is excellent: 22 wins and only 4 losses. Jacaré is known for his strength and he's a very complete fighter, with dangerous feet and very strong on the ground. Therefore, he has many options to take down and finish his opponent.
Vitor Belfort is a Legend of this sport. He was one of the youngest UFC Champions by the age of 19. This Brazilian fighter is known for his explosive power and incredible hand speed, unleashing devastating sequences that knock his opponents down.
In his last 14 fights he only lost against great champions: Anderson Silva, Jon Jones and Chris Weidman. His loss against Anderson Silva was only natural, since Silva was at his peak and is clearly one of the best fighters in the history of the sport. But against Jon Jones he didn't have much time to prepare for the fight, since he accepted the challenge on short notice. He almost won, though, and got to belt, since in the first round he got Jones in an arm lock that almost finished the champion. Against Chris Weidman, a fighter almost 10 years younger, Belfort had a good sequence in the first round but ended up beaten.
Overall, we must recognize that Belfort is a great Champion, with very few an acceptable losses in the last fights. Despite his age, he's still capable of surprising everybody.
This is a fight between two very explosive fighters, with great knock-out power. Ronaldo Jacaré is in a great form moment and faces an opponent that will attack strong in the first round. Sure enough, Vitor Belfort has the speed and the power to create many problems to Jacaré, but he likes taking chances, which may give Jacaré a chance to counter. Vitor Belfort knows that his advantage is in the first round. He's pushing 40 and is in danger of suffering from accumulated fatigue and slowing down in the following rounds. Therefore, Belford should be more aggressive in the first round, to try to get another early knockout, since he has the record for one of the fastest Knockouts in UFC history and he has gotten early knockouts in 12 fights along his career.
Bet Suggestion:
Under 1.5 rounds – 1.70 – Bet365