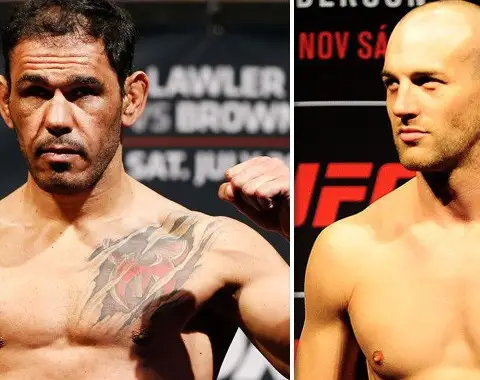 Minotouro and his twin brother are known for their high level jiu-jitsu skills, but Minotouro also has great boxing skills. Patrick Cummins is a Wrestler.
Which fighting specialty will come out on top?
António Rogério Nogueira, AKA Minotouro, twin brother of Minotauro, is a 39 year old Brazilian fighter with a black belt in Jiu-Jitsu, but he is also very strong in wrestling, Muay Thai and boxing. The Nogueira brothers are known for their Jiu-Jitsu skills. Although his brother Minotauro is more famous, Minotouro has a high-level boxing and won the bronze medal at the 2007 Pan American Games. Given his boxing and Jiu-Jitsu skills, he is indeed a very dangerous fighter.

Given his age, the Brazilian hasn't had many fights lately. He didn't fight in 2012 and has fought once a year since. He has a great MMA record, but as his career comes to an end he now loses more often. In his first 22 fights he only lost 3 times, but in the last 6 fights he lost 4. It's clear that he isn't as strong as he used to be, but he's still a very dangerous fighter. Three of the last 4 losses came from the judges' cards. He was only knocked out by Anthony Johnson. Moreover, he registers wins over famous fighters like Rashad Evans and Tito Ortiz. To sum up, one could say that to beat Minotouro you need to be a talented, dedicated and strong fighter, because the Brazilian doesn't give up easily.

Patrick Cummins is a 35 years old American fighter and a specialist in wrestling. He has an MMA record of 8 wins, 4 by knockout, and 3 losses.

After a few wins in smaller events, Cummings made his debut in the UFC. He was knocked out in the first round by Daniel Cormier, a fighter who by then had fought 18 times and had only been beaten by champion John Jones. After that, he registered 3 consecutive wins, against Roger Narvaez, Kyle Kingsbury and António Carlos Júnior (known as "Cara de Sapato"). After that he was beaten by Ovice St Preaux and went on to beat Ricardo Cavalcante (known as "Feijão"). His last fight was against Glover Teixeira, which he lost.

Minotouro's only opponent is his age, since it's clear that he isn't as strong as he used to be. However, he is still an excellent fighter, with great experience, very strong on his feet and on the ground. He is mentally very strong and has never given up easily on a fight. On the other hand, Patrick Cummings isn't a young fighter too. He's 35 years old and has never beaten a really famous fighter. He has an MMA UFC record of 3 losses and 4 wins. It's not easy to say who will win this fight, but surely a 3.0 odd in favour of Minotouro is of good value, since he is a great boxing and jiu-jitsu fighter who doesn't give up on the fight. Moreover, he has the home advantage and should be motivated by the support of the fans.
Bet suggestion:
Antonio Rogerio Nogueira (Minotouro) to win – 3.00 – Bet365