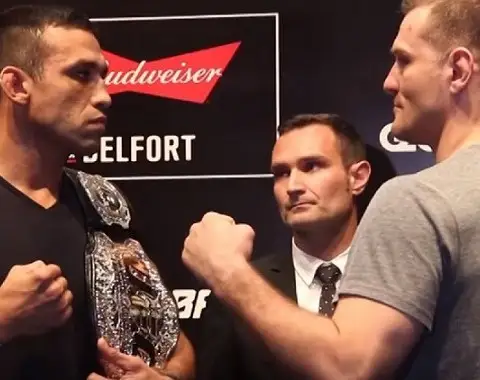 ... this is a fight for the belt. Therefore, it will be a 5 round fight, instead of the usual 3. This means the fighters will pace themselves and will have more time to study each other...
Fabricio Werdum is a 38 year old Brazilian fighter. He has a black belt in Jiu-Jitsu, Muay Thai and Judo. He's one of the most famous heavyweight Brazilian fighters and the current champion in this category, after having beaten Cain Velasquez.

He has fought 6 times in the UFC and won all of these fights, against Roy Nelson, Minotauro, Travis Browe, Mark Hunt and Cain Velasquez. Despite having faced some of the best fighters in the UFC, Werdum has surprised everybody by winning all of these fights. The Brazilian is indeed a very complete fighter, with great height, great reach, a lot of strength fighting on his feet and making good use of his Jiu-Jitsu skills. It's important to notice that most heavyweights prefer to fight on their feet, like Roy Nelson or Mark hunt. But Fabrício Verdum is different and has many different options and weapons to get the win.

Stipe Miocic stood out in the last fights, with beautiful Knockouts in the last two fights, against Mark hunt and Andrei Arlovski. He specializes in both boxing and wrestling.

Miocic likes to brawl and take chances. He relies on his strength and he has great hands skills. Therefore, he is always looking for a Knockout opportunity. Throughout his career he won 14 times and only lost against Cigano and Stefan Struve. Miocic definitely has the knockout power to beat the Brazilian. However, he has to avoid a ground fight, since Werdum clearly has the advantage there, given his Jiu-Jitsu skills. He should prefer to fight on his feet, which will increase his chances of getting a knockout.

This is a heavyweight fight, which usually means fewer rounds, given the power of the fighters, which increases the chances of knockouts. However, this is a fight for the belt, with 5 rounds instead of the usual 3. This means the fighters will pace themselves and have more time to study each other. Miocic is usually very an aggressive fighter, always looking for the knockout. He should respect Werdum's skills and will try to avoid taking too many chances. We believe the fight will not be decided by the judges' cards, since both fighters have the strength and the skill to win the fight before the fifth round. Therefore, the under 4.5 rounds market is a good choice.
Bet suggestion:
Menos de 4.5 rounds – 1.50 – Bet365