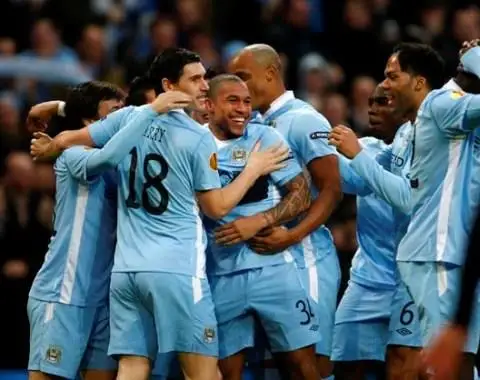 Trading with the favourite when the match is drawn and coming to a close can be quite hard.
Sometimes it is better to do nothing.

Using a question that was placed on the forums, I decided to write this article because I'm sure that our friend Hugo's doubt is also common to many other users.


"Good evening Paulo, I have a question for you about a situation that occurred to me this weekend on the Manchester City vs. Newcastle match.

We had 1-1 on the board, time was running and City was pressing hard. I was convinced that they would score, sooner or later.
The market tendency was on the rise for both teams with the draw odds going down, this around the 70th minute.
I was using the Lay/Back technique, in order to take advantage of the rising odds.

All of a sudden City scores and I had a Lay bet matched and a Back one in line, it didn't go in though because of the goal.

What should I do in these kinds of situations? What I had predicted indeed happened and instead of profiting from it I ended up having a red. I should say that I closed my position immediately and tried to get back some of the money lost, without getting too greedy of course.

Hug"


Regarding your procedure the major mistake was forgetting about the number 1 rule in trading: (with few exceptions) trading positions must have punter value.
That is, if you were convinced that M. City was going to score, any trade involving M. City should start with a Back bet and then a Lay.

Generally the answer is:
… depends. It depends on the value you place on your odd and your betting profile.

On these kinds of scenarios, drawn matches and deep into the second half, if you want to trade you should consider the following:

a) Let's suppose that you value the Manchester city as being low and you think that M. City will score, in this case you must know how to not do anything on this selection.

Why? Because if you think that the odd is low the correct path would be to place a Lay and wait for an odd raise, however, because you are predicting a goal, if that happens you will have a substantial loss.
So, in this situation, the best course of action is to do nothing.

b) If you think that the M City odd is high, the valuable course of action would be to back M. City and wait for the goals to start coming or for the odds to drop to their fair value (very unlikely due to the advanced stage of the match). You must keep a constant eye on the market and when you think the M.City odd is again on a fair value you should Lay it
even if it comes with a slight loss for you
.
Now, here is the part where your betting profile comes into play. Very few people are able to do the above procedure because it will lead to a lot of small losses. However, if your analysis is correct, on the long run, the few times that you win (M. City goal or odds dropping (with no goals scored)) will largely compensate those small losses.
If your betting profile is not compatible with this strategy, meaning you get very sad every time you lose money, your best course of action will be to do nothing. I should tell you that I know a very small amount of people that can successfully apply this strategy.
PR