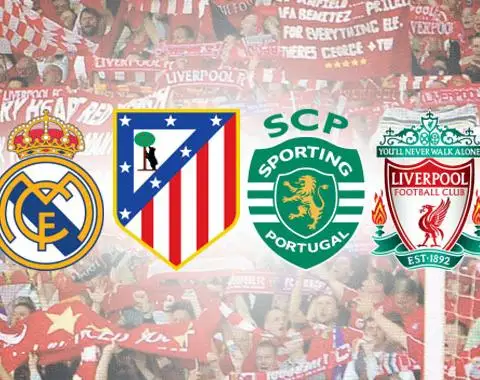 Paulo Rebelo's 3rd Chronicle for Penthouse Portugal magazine (October 2011)
«Saving improves the gain» - here I'll give you some tips on some special teams to bet on: Real Madrid, Liverpool, Atlético Madrid, Sporting.
Real Madrid (playing at home – Santiago Bernabéu):
I didn't know the true dimension of Real Madrid before I came to live in Madrid and started working with the Spanish First Division.
The stadium Santiago Bernabéu is a magical place where the crowd is actually the 12nd player (sometimes also the 13rd player) and where epical nights near impossible to happen take place, actually more often than I could imagine.
The Real Madrid's fans say that in Bernabéu, Real Madrid is never losing, they only say Real Madrid is almost reaching the draw.
In the beginning I was caught on surprise many times by victories when Real Madrid was with 9 players, or by twists made in the last five minutes. Today I don't bet against Real Madrid in his home stadium anymore.

Liverpool
Liverpool is not the team with more fans in England, although it's the one with the most fanatic fans. "You'll never walk alone" it's the famous song of Liverpool fans that actually take seriously the spirit of the song.
Here people say that Liverpool fans "back whatever". Meaning that no matter the situation, those fans believe Liverpool will always win so they bet on his victory.
Consequently the prize for Liverpool's victory use to be lower than its fair value, making a good opportunity to bet against Liverpool.

Atlético de Madrid
The Atlético de Madrid is a good case study. Historically it's a manic-depressive team that alternates easily between good and bad moments. Those variations occur from different seasons, from different matches of the same season and even from different moments of a single match.
That inconsistency makes Atlético's odd be usually unfair, offering good chances to earn money trading in betting exchanges like Betfair.
The Atlético de Madrid is both capable of winning Barcelona after start losing 2-0, as well as conceding a draw to the last team of the competition after start winning and with 2 players more.

Sporting
"Our" Sporting is an excellent team to do trading and a very bad team to do punter. In other words it's a bad team to win money trying to predict the outcome of the match. It's however an excellent team to win money with the variations during the match.
One curiosity about Sporting is that its matches are the ones with higher liquidity in Portugal. The explanation is precisely the team's irregularity that leads to constant adjustments of betting positions during the match.
Some tips to bet on "special teams":
Real Madrid:
Never bet against Real Madrid when playing at home;
Whenever Real Madrid is losing, the prize for Real's victory increases a lot, and it's frequently a value bet.
Liverpool:
Bet against Liverpool is many times a value bet.
Atlético de Madrid:
The pre-live stats has limited value in teams like Atlético de Madrid;
During the match, when we can identify different moments, it's possible to get advantage in trading;
Before the match ends, the outcome is never definitive in teams like Atlético, therefore we must never bet on low odds on those matches.
Sporting:
Do not bet before the match starts;
Try to profit out of the irregularity of the team during the match using the swings of the odds to back on Sporting.