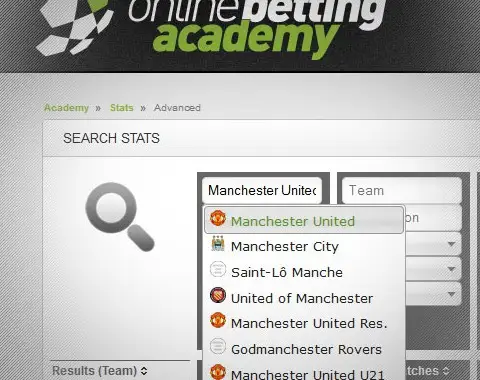 This is a tool developed by the betting Academy that you will find nowhere else!
Use the search function freely to test your favourite techniques and maybe find out just the statistic you were looking for to bet with good value.
With the advanced stats search you choose what you want to see:
Just one team or all of them,
On just one competition or in any of the competitions they have played,
From 5 years back, up to now!
This feature is exclusive to registered Academy members with level 1 (or higher) access. Click HERE to know more about getting Academy points and raising your level.
What do I need to gain access?

Examples of possible searches:
You will be able to compare a team's form on the competitions where it is involved, individually or taking into account all games in all competitions simultaneously.
None of Arsenal's matches ended 0-0 in the FA Cup, since 2010/11 until 2014/15.

You will be able to compare the form of a team in their home games, through their last seasons (up to 5 years back).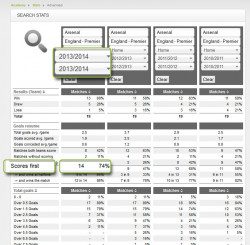 Arsenal increased significantly the matches where scored first in last 2013/14 season of Premier League comparing to previous ones!

You will be able to compare different championships to find out which has the most no goal draws.
Last year, there were less matches ending 0-0 in Netherlands first division, than in others competitions.

You have this powerful tool waiting for you, enjoy it: Advanced Statistics Search.
Because when you have the information it's not risking, it's investing.