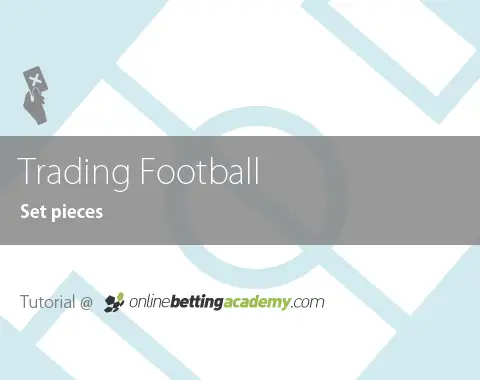 Set pieces can be a gold mine for the prepared trader.
The study of the duel and of both teams will guarantee your profit.
One of the strategies outside of the scope of traditional trading. Here, the trader returns to his punter roots trying to catch a big odd variation..
In general, many traders follow this route, using delays, radio or other similar tactics. Others thought, attempt to use their feeling and knowledge of the teams and game to their favour. I focus more on using my football and team knowledge to my benefit using set pieces thought the game in order to make good profits from a possible goal.
What if you know that a team would score a goal on that free kick near the box before it happened?

With trading you don't need to see the future, you can simply open a position backing a team or goal, or against the opponent team and with a goal on that play you'll be profiting. If no one scores, simply close your position.

Every position closed with objectives not achieved loses you money, a small part of your stake will be taken, sometimes a big part, because of that you cannot wait too long to open a set piece position, the market will fall upon that position hard so you must be quick. The big score is to ride the delays and grab that early position. Don't forget the fight to get into the market is hard, the fight to get out is even worse.
Again I will only report my thought and work method, this is not an absolute truth, I am just another trader trying to make a daily living.

Back to the market, you open your position when you get a set piece a foul, a corner kick or a throw in, I will explain the throw in part later. We always open our positions with the objective of catching a big odd swing.

To those who read "throw ins" and were baffled, know that they are one of the market where I get good profits, later I will explain.
Let's do this then.

First, I study the match as I would any other where I would be punting, this time though keeping an eye out on the special statistics. For instance, in which time period the teams score more goals. Then which are the methods they usually use to score. Then my attention goes to the teams that score frequently from set pieces, who has good free kick takers, good corner kick taking, great aerial game, etc...

Now comes the throw in part, remember that there are teams with players that take throw ins straight to the opponent's box when they are close to the corner line just like a cross. I like keeping an eye out for these plays especially when the match is on its second half and starting to heat up.

After studying every match which I intend to take on, I try to focus only on the one that seems to be more suited for this tactic. A match up where both teams are good at the required play types or where one is very good at set pieces.
Then I proceed to take a closer look to players and their specifities. Some we all know what to expect like Messi, CR7 or Neymar we all know their style and potential, the 3 of them are excellent set piece takers. What else do they have in common? All of them have given me a lot of money. There are other players who we know have very good set piece number as well but of who we don't know the details, what is their preferred target distance for example, etc...
After the best free kick takers the starting lineups and the team's preferred scoring method are known and outlined I go to war
with a clear strategy defined
.
With that everything becomes simpler. Just sit down, watch the game open your positions when the situations seems favourable and close it as soon as the play is concluded where there was a goal or not.
The reds on our stake will inevitably pile up during the match, we can reduce them though and, by taking the right opportunities, we will
end up with a good profit from each event.
One of the major mistakes is to try to implement this strategy without a defined strategy and study in play
. The trader will sometimes open a position in ANY free kick when sometimes the place is not ideal for that player or the team isn't even that good at set pieces. I know that most trader do not know how or do not like to study the matches (specially the starters) but it is essential for this to work.
Be aware that
the reds will pile upon your stake, that is normal, not normal is to keep piling them up indefinitely
, it must be clear that we will not open positions in every set piece, we will always hand pick them, and that pick will be based on the study that we made before the event starts.
Always opt to work on games with a high goal scoring potential where you can even run a Scalping strategy on the attacking plays of each team. That's for another article though.
TI tried to utilize a more informal language in this article and tried to keep it brief because I tend to overwrite. I hope that everything was clear, any doubt just post it on the comments below.
Best wishes!